Texas is no stranger to extreme weather conditions. From the intense summer heat to freezing winter temperatures, outdoor living areas are often neglected most months of the year. Thankfully, design features such as fireplaces and patio covers can add to your space and make it usable and enjoyable year-round. When designed properly, these features can extend the time you spend outdoors, allowing you to take full advantage of your space in any weather. They make it easier to entertain, enjoy time with your family, or simply get outside and relax. And, since outdoor living spaces are climbing to the top of many homebuyers' wish lists, they'll help increase your property value, too.
Table of Contents
Patio Covers and Pergolas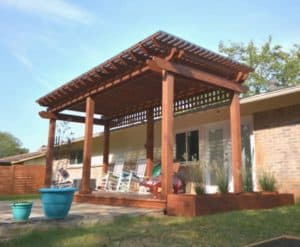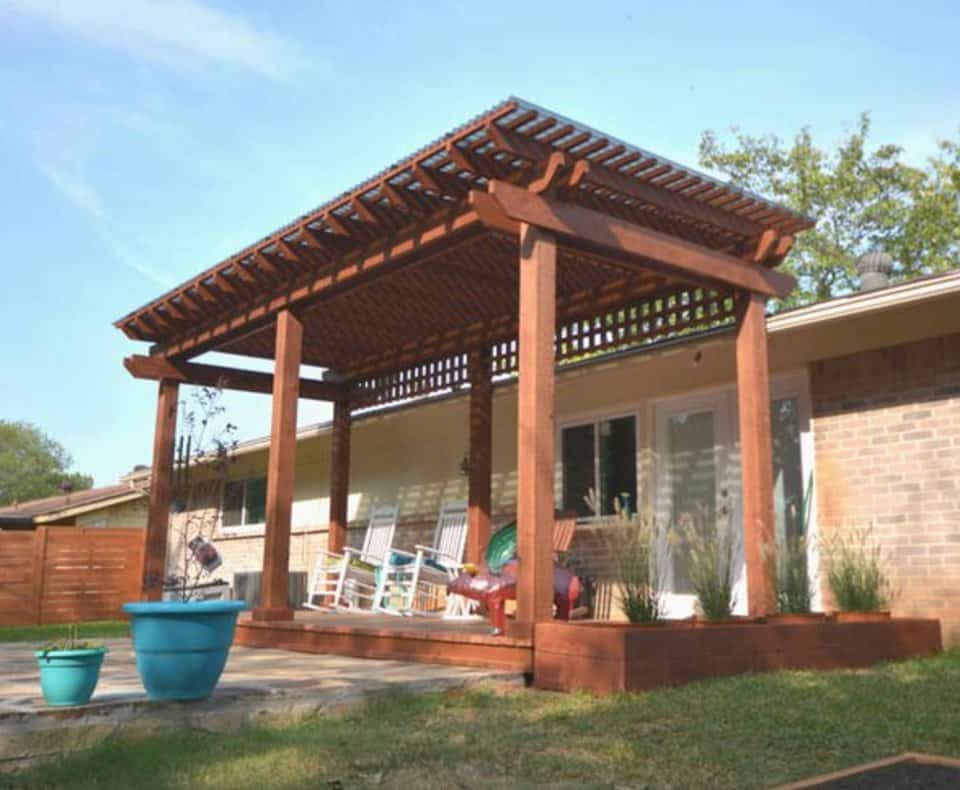 Patio covers and pergolas are great design features for year-round outdoor living. They offer shade to beat the summer heat and a sheltered area you and your guests can head to if an unexpected shower shows up. With a patio cover or pergola, you no longer have to try to plan around the weather forecast or worry about mother nature crashing your party. They can be used in conjunction with other outdoor living features such as an outdoor kitchen, ceiling fans, or a fireplace. Patio covers and pergolas also offer year-round protection for your outdoor furnishings. When the summer temperatures arrive, having access to the shade when necessary provides relief and adds a level of safety. With a patio cover or pergola, you and your guests are free to gather day or night any time of the year.
Learn More: Outdoor Living: Patio Cover Options
Decks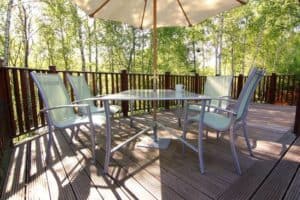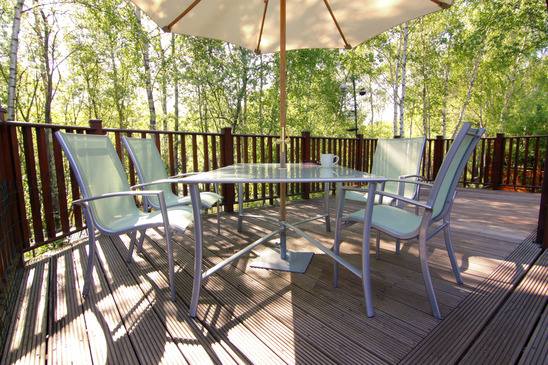 A deck is a simple way to amplify your outdoor entertaining space. It quickly takes a bare backyard to the next level. Decks are the perfect place to host a party, enjoy dinner, or sit out and relax in the sun. They can be equipped with furniture for lounging or a table and chairs for enjoying meals and other activities. They can be made from wood or composite materials, each coming with its own beauty and aesthetic. Either way, decks typically work with nearly all landscaping and home styles, offering a wide appeal. This is definitely something to consider if there's a chance you may look to sell in the future.
Fire Pits and Fireplaces
Adding a little fire to your outdoor living space can really kick things up a notch. Fire pits and fireplaces can do a lot to make your outdoor living space useable in the late fall, winter, and early spring months. Just because there's a chill in the night air doesn't mean you have to move the party indoors. Nothing beats cozying up around the fire! Fire pits and fireplaces provide warmth and a relaxing glow for your guests. They also offer a unique fun and cooking experience. Whether your gathering is large or small, roasting s'mores on a fire is a memorable experience.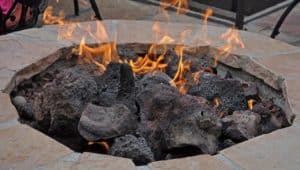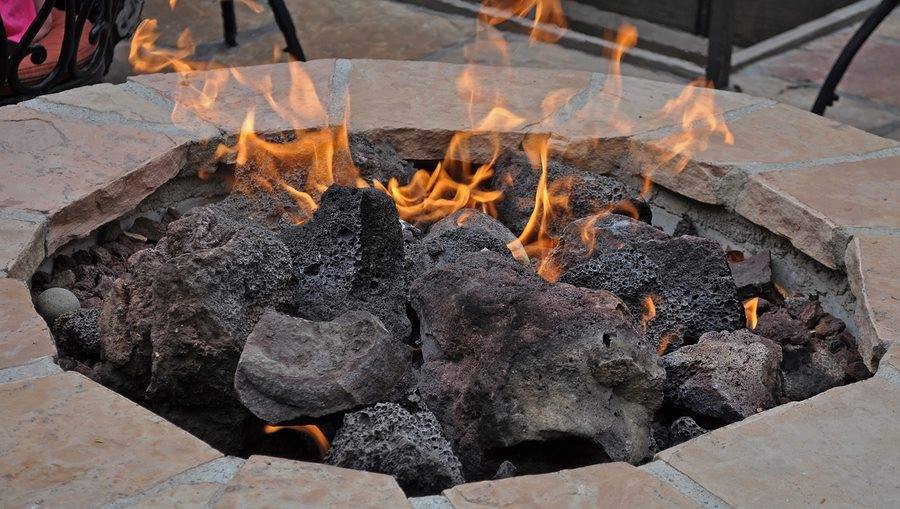 Fireplaces and fire pits are great design features for year-round outdoor living. They are extremely versatile and can be used in both warm and cold temperatures. They can be wood-burning or gas-burning and can be made from stone, brick, concrete, or metal. Giving yours a custom design means it can easily fit within your outdoor living area and the overall style of your home. Fire pits are usually the preferred option if space is at a premium. Fireplaces can be used as a statement piece or focal point for large areas. And, since both tend to be a natural gathering and conversation area, you'll want to be sure you incorporate seating.
Heaters
Heaters offer a lot of convenience and comfort for the outdoors. If you enjoy hosting, a few heaters in a larger entertaining area can make your space much more enjoyable. Just a flip of the switch and their warmth ensures you and your guests are comfortable as the temperature drops. And, if it gets too warm, they can easily be turned off until they're needed again. This can be a huge plus if your outdoor living space is located near a pool.
Ceiling Fans
Sometimes shade isn't quite enough to keep a space pleasant in the summer heat. The addition of one or more ceiling fans to your outdoor living space can make a big difference when it comes to how often you use it. Ceiling fans provide additional air circulation, especially for areas near an outdoor kitchen. When the temperature rises, you and your guests can quickly find relief. And, for an added bonus, outdoor ceiling fans can also help keep away pesky bugs.
Outdoor Kitchens
Outdoor kitchens are growing in popularity among homeowners and homebuyers alike, and for good reason. When entertaining, people want to spend quality time with their friends and family, not be indoors cut off from all the action. Adding a kitchen to your outdoor living space is the perfect solution. An outdoor kitchen keeps you in the entertainment area, allowing you to stay engaged with your guests and provide easy access to hosting needs.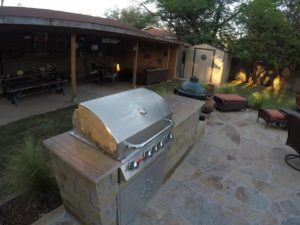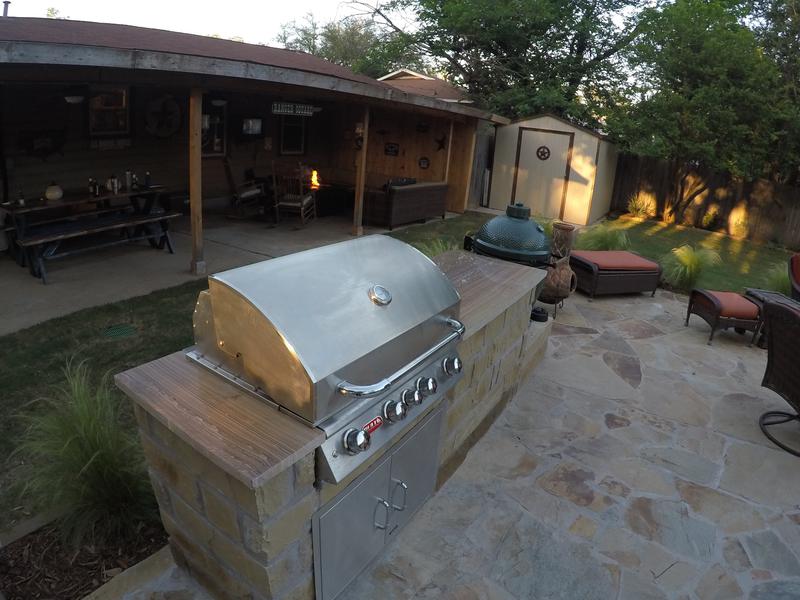 An outdoor kitchen eliminates the need to walk back and forth from the indoors to your outdoor entertaining space, making cooking and cleaning up much easier. Plus, cooking outside and keeping doors closed can also help keep your home cooler during the warm summer months.
Outdoor kitchens are the perfect design feature for year-round outdoor living. When designed well, your outdoor kitchen can be used in both warm and cold seasons. Many unique design options are available to customize your space and accommodate your cooking and entertaining style. A roasting spit, smoker, outdoor bar, or pizza oven are just a few great examples to make it yours. When designing your space, be sure to include necessities like a fridge and sink to make sure your outdoor kitchen is fully functioning and equipped for maximum efficiency.
Learn More: Fire Up the Grill: Outdoor Kitchen Must Haves
Enjoy Your Space Year-Round
Your outdoor living space should be a reflection of how you entertain and enjoy your time outdoors. When designed properly, it can complement the style of your home, have all of the features you need, and allow you to make the best possible use of your outdoor space – hot or cold, rain or shine, fall, winter, spring or summer.