Patios and Pathways
When planning your landscape design, don't overlook one of the most important features – the pathways and patios that connect each area to make them useable. By planning your pathway design, choosing the best materials, and caring for your outdoor space, you can create an outdoor oasis for relaxing and entertaining.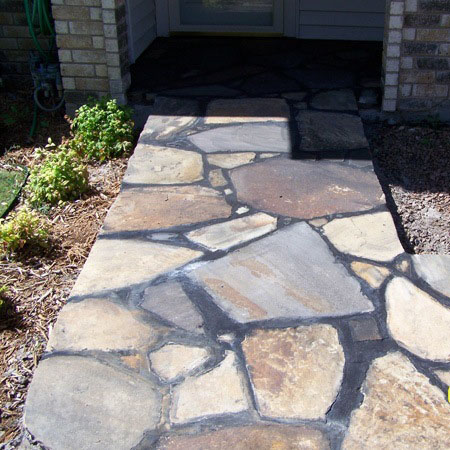 Using Pathways and Patios in your Landscape
There are endless possibilities when it comes to designing areas of your landscaping. You might choose to install several types of gardens, include an entertaining area, and add structures as focal points. The question is, how will you connect each area to make your space usable? Pathways and patios pull your design together.
Pathways are designed to guide you through the outdoor area. Patios provide the foundation for other hardscaping features to exist on. These two important pieces of your landscape design can vary greatly depending on your budget, the style you want your space to have, and the materials you choose to work with.
Designing your Hardscape
Pathway Materials
The materials you choose for your pathway can dramatically change the look and feeling you create. Your choice will be based greatly on personal preference, but some materials are also much more suited to specific areas and needs. These are some of the more common options that you'll have to choose from.
Mulch: Mulch provides an organic look and natural feeling when used for a pathway. The material is much cheaper than other options as well. When choosing mulch, be aware that you'll need to replace the material every year to keep it looking fresh. Avoid using mulch in wet areas, as it will create a soggy pathway that no one will want to walk on.
Gravel: Using stones, crushed shells, and other types of gravel is a popular option because it provides a slightly more formal look than mulch. Gravel is another relatively inexpensive option that can be used in a wide variety of areas. One drawback to choosing gravel is that it won't stay in place. You'll find pieces of your pathway in the grass, in gardens, and most likely tracked inside your house.
Stone: Stone pathways are the most permanent of the options you'll choose from and will create a polished look. Stone is also the more expensive option, but it will not need refreshed or replenished like mulch and gravel.
Patio Materials
Just like pathways, choosing the materials for your patio will change the look of your space and the feeling you'll create. Making the most of your outdoor space starts with creating a base to start from and choosing the right materials. Here are some of the more common options:
Wood: Wood decks have a traditional and easy look that many homeowners prefer. However, this is the material that will also require the most maintenance each year. Wood decks need to be sealed and kept clean to stay in good shape over time. Another option is a wood composite material that gives the same look, without the same maintenance requirements.
Brick: Another traditional option, brick offers a classic look. Brick patios have been a mainstay over time, and for good reason. Using this material will give you a patio that will hold up well over time and only look better with age. A major benefit to choosing brick is that each brick can be replaced individually when needed, rather than replacing the entire area if there's damage.
Concrete: Concrete has a much more modern look than wood and comes at a fraction of the price, making it another popular option among homeowners. When choosing concrete you'll have options of different colors, textures, and designs to get a look that meets your style preferences.
Stone: One of the more versatile options for patio material, stone comes in a huge variety of colors, sizes, and styles. Stone patios require very little maintenance and have a high end look when finished. This is also one of the more expensive options, with prices that will vary greatly depending on what specific type of stone you choose.
Maintaining your Patio and Pathways
No matter which materials you choose to work with, there will be some amount of seasonal and annual maintenance that will be necessary to keep your space looking its best. These are some of the ways you can keep up the space throughout the year.
Sweep frequently to keep the area clean and clear of debris. A quick sweep can make the area instantly look better and will prevent accidents when guests walk through the space.
Choose the right cleaners for the materials you work with. There are specific products made for wood, stone, and concrete. Choosing the best products will help to maintain the look of your patio and keep it in good shape over time.
Know your materials. Wood patios will need to be sealed, while concrete should be power washed each year. Ask your experts how to best care for the materials you choose.
As always, keep an eye out for water damage. When water builds up, it can quickly cause damage to structures and will lead to more problems over time. If you notice water damage at your patio, call in a professional to assess the problem.
Planning the design of your landscaping, with pathways and patios to pull it together, is a big task. The team at Circle D Construction can help you make your outdoor area a beautiful and functional space that fits your lifestyle.
---
Get Your Patio Installed by Circle D
Contact us today to get a patio installation estimate specifically tailored for your outdoor space.
Get An Estimate