Outdoor Fireplaces and Fire Pits
One of the most popular hardscaping features you can add to an outdoor living space is the element of fire. Fire pits and outdoor fireplaces offer a great entertainment option, and can be a beautiful focal point for your patio or backyard. Let us help you design the perfect outdoor fire feature to help set the mood in your yard all year round.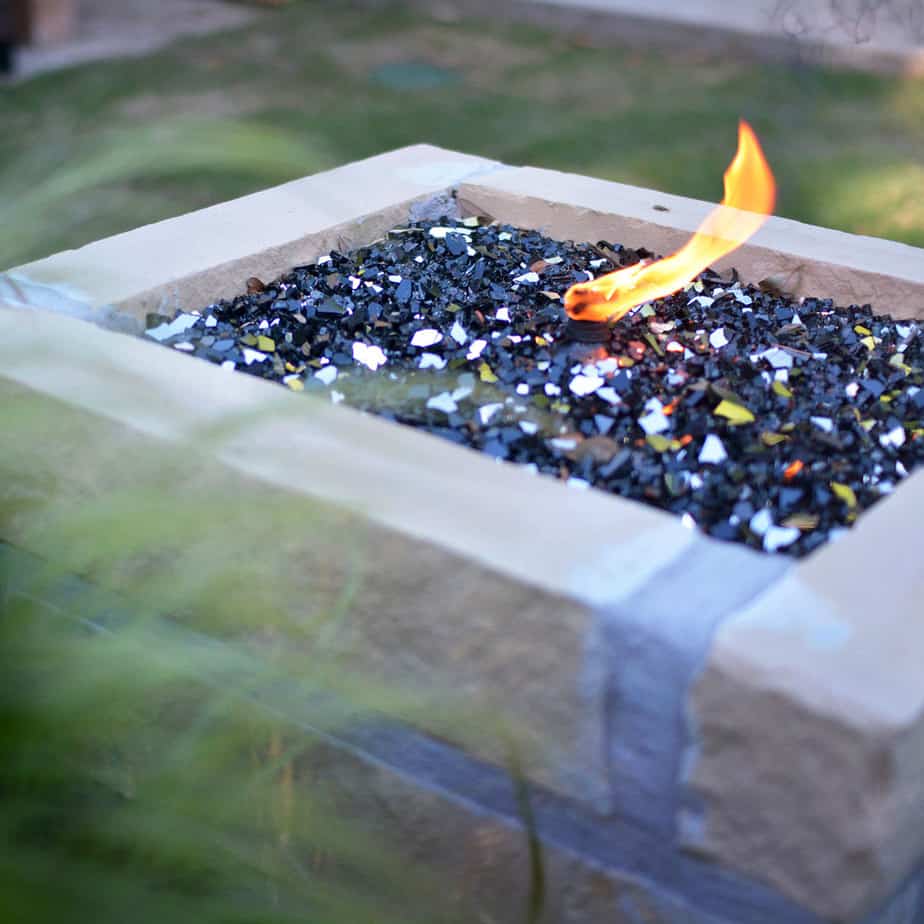 Whether you opt for a simple fire pit or a outdoor fireplace with a full mantel, using a fire feature as part of your landscape design can make a big impact.
Types of Outdoor Fire Features
When designing your outdoor space, you'll have a few different options for choosing fireplaces. Each comes with its own unique benefits as well as drawbacks, material options, and design possibilities.
Wood Burning Fireplaces: For a traditional look and creating a cozy atmosphere, a wood burning fireplace is a popular option. The fireplace can be built to your specifications, to fit perfectly into your hardscape design. You can't beat the sound, smell, and look of a wood burning fire. Keep in mind that a wood burning fireplace means that you'll need to keep a supply of firewood, and that maintaining your space will include cleaning up the debris after a fire.
Gas Fireplaces: These fireplaces are the easiest to control and the easiest to maintain. With controls that allow you to change the temperature as needed, a gas fireplace is the perfect option for those who want a way to keep their patio at the ideal temperature on cooler nights. These fireplaces are also easy to clean and won't create smoke and sparks. A potential drawback for gas fireplaces is that they require access to a nearby gas source, which can be tricky, depending on where you're having it installed.
Fire Pits: If a fireplace isn't the right option for you, a fire pit might be a good alternative. A pit can vary in size, shape, and design, and be located nearly anywhere in the yard. It can be as simple as a metal ring, or a more elaborate stone design with seating surrounding it. Fire pits may not make the same big statement as a fireplace, but can create a cozy spot for relaxing and entertaining.
---
Get Your Fire Feature Built by Circle D
Contact us today to get an estimate on all the dreams and ideas you have for your outdoor space.
Get An Estimate
Benefits of Bringing Fireplaces Outdoors
If you love to entertain outside, relax on chilly evenings, or take your meals outdoors, a fire feature is an excellent addition to a hardscaping design. Here are a few of the benefits of building a fireplace outside.
Having a heat source outside means that you can entertain during any season. After dinner, gather around your outdoor fireplace or fire pit and stay warm while catching up with friends and family.
An open fire can be another cooking option. Whether you're toasting marshmallows or cooking hotdogs for the kids, there's no reason to head to the kitchen. Just bring your supplies outside and keep it simple.
While a patio area may be a comfortable place to sit for a meal, there's nothing more cozy than sitting by a fire. With the right seating, your fireplace will quickly become your favorite place to sit and relax.
Choosing Between Fire Pits and Fireplaces
Both fireplaces and fire pits have their advantages and drawbacks. Which one is the best choice for your yard?
If you're working with limited space, a smaller fire pit might be a better choice. You'll have more options for placement and an easier time with changing the dimensions to fit perfectly in your hardscape design.
For those looking for a focal point that makes a statement, it's hard to beat a fireplace with a mantel. It's a sure way to get people to gather together in one area.
Fireplaces require much more time and effort to build. If you're on a tight timeline, you'll want to take into consideration the time needed to get permits, hook up gas lines if needed, and build the fireplace structure.
Impressive fireplaces are a great way to attract potential home buyers when you're trying to sell your home.
Some homeowners may not want a permanent feature. If you're looking for something temporary, a fire pit is your answer. It can be removed much more easily if your landscaping design changes.
Designing and Building a Fire Feature
When you've decided that a fire feature is just what your hardscaping design needs, there are a few things you'll need to consider before building.
Location: Determining the size, shape, and type of feature you'll install could be affected by where you want the fireplace or fire pit to be located in your yard. Building codes, fire safety, and access to gas lines will all need to be considered.
Materials: From metal to brick to stone, there are many different options when it comes to materials for hardscaping. A professional will be able to help you sort through the options to choose materials that work with the rest of your landscape design and hold up against the heat of a fireplace.
Cost: The cost of building an outdoor fireplace can vary greatly depending on how large your fireplace will be, how elaborate a design you want, and how much work will need to be done to prepare the space.
Style: Whether you prefer modern design or tend to be more traditional, there is a fire feature that will match your style. With the right materials, seating options, and design choices, your outdoor area will perfectly reflect your personality.
Get in touch with us for more information about designing and installing an outdoor fireplace.