Imagine your next get-together outside in the fresh air with family and friends cooking and enjoying a delicious meal. Outdoor kitchens are one of the most impressive improvements you can make to your home, and for good reason. Before you start entertaining this summer, here's how you can transform your backyard into an outdoor kitchen fit for a culinary master.
Table of Contents
Outdoor Kitchen Benefits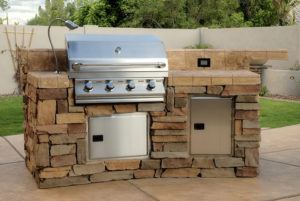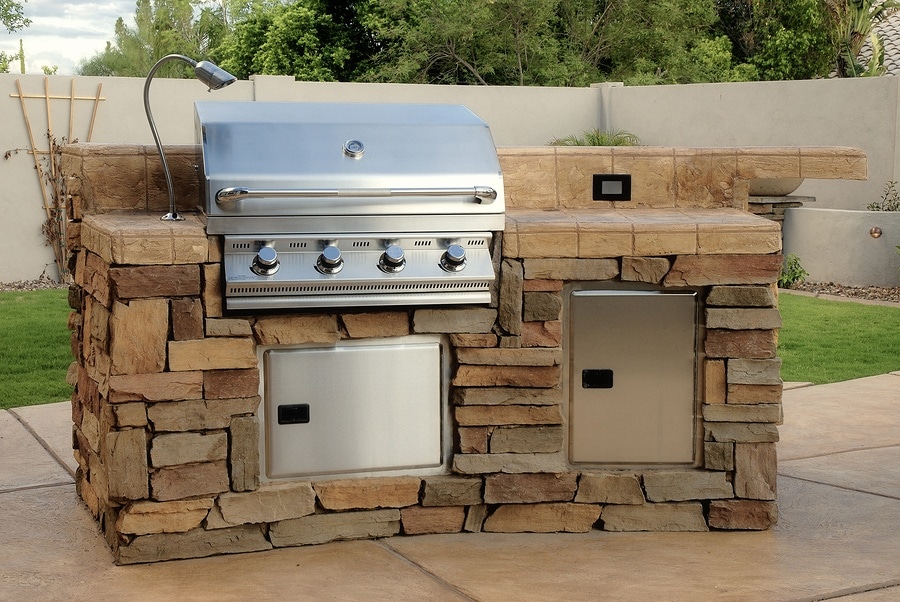 There are many advantages to having an outdoor kitchen space, especially if you and your family enjoy spending time outside. Whether you've been spending all day working or swimming, there's just something about relaxing and eating your freshly grilled meal outdoors. During the summer, cooking outside helps control the temperature inside your home, allowing you to cook your meal without heating up the house. Outdoor kitchens allow you to make everything from appetizers to desserts all while entertaining your guests. They also drastically increase the value of your home and are becoming extremely popular with homebuyers.
From pool parties and barbecues to family get-togethers and romantic meals around the fire, an outdoor kitchen is an addition to your home that is well worth the investment. If you're interested in creating an outdoor kitchen space in your backyard, ask yourself these questions:
How often will I use it?

What are my outdoor kitchen must-haves?

How many people am I likely to invite at one time?

How involved of a meal do I plan to regularly prepare in that space?
Knowing the answers will help you narrow down your wants and needs as you enter into the design process.
Consider This
Before you get started, there are several important elements you may want to consider and incorporate into your outdoor kitchen design.
Space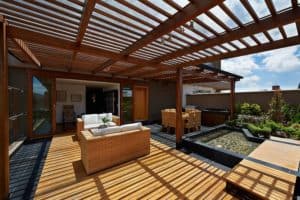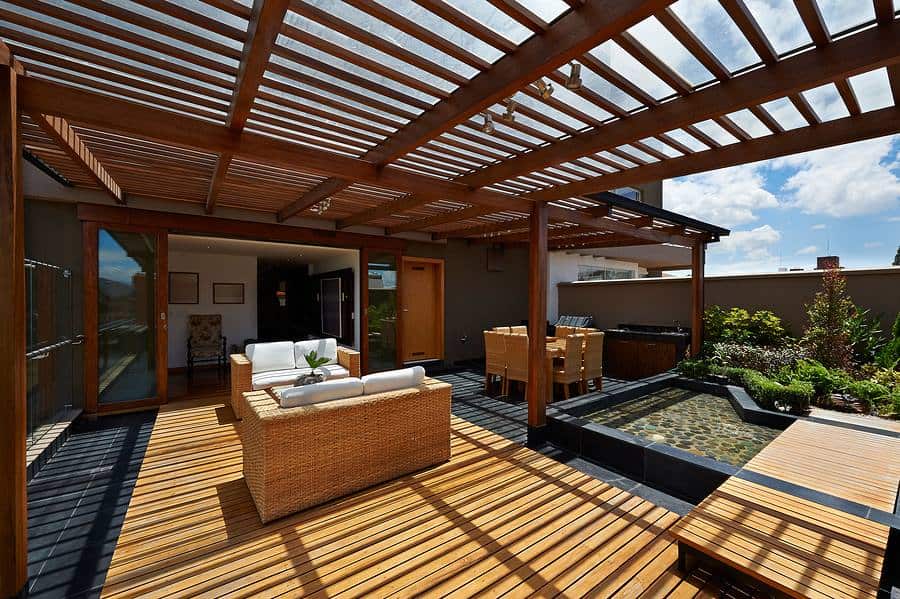 Often, the point of having an outdoor kitchen is being able to prepare food while still visiting with your guests. For this reason, the location and placement of your kitchen is one of the most important steps in the design process. Outdoor kitchens near the house can usually get by with fewer appliances and can often utilize the home's utilities. Designing your kitchen on the side of the house provides a wind barrier. And, if you find that you need some extra protection, an overhanging roof or patio cover can easily be added.
Being close to the house, however, can often limit the kitchen's design. Placing your outdoor kitchen farther away gives you complete freedom in the design, size and layout. The distance will create a distinct entertaining area in your yard. Keep in mind, however, that you'll most likely need to add more appliances and utilities to have a fully functioning kitchen. Any roof coverings will have to be built from the ground up, and in order to keep smoke away, proper ventilation is a must.
A Grill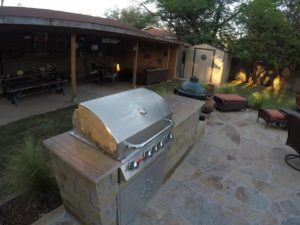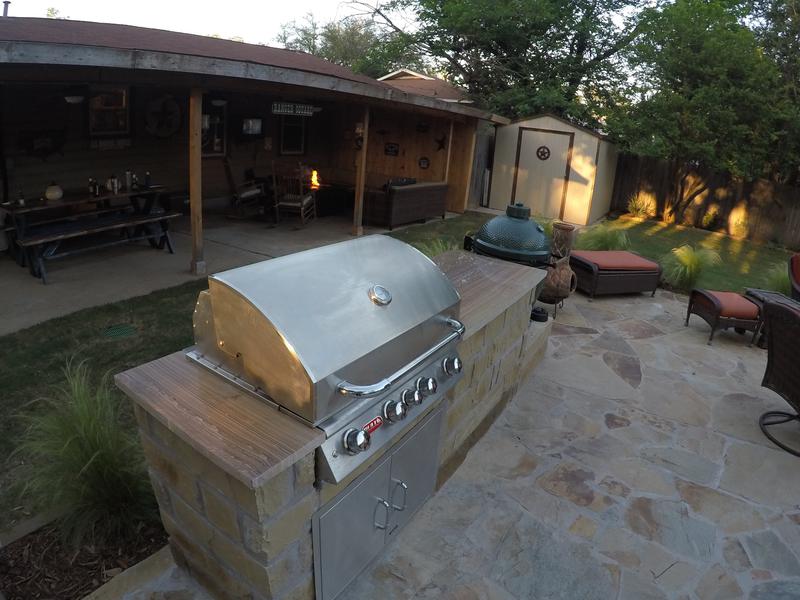 Even if you don't have a full outdoor kitchen, a grill is the number-one essential. From burgers and hotdogs to steak and grilled veggies, a grill offers a wide range of culinary possibilities, perfect for feeding hungry guests. Whether your grill stands alone or is built into your counter space, it truly is the heart of outdoor entertaining. You can choose from gas, charcoal, or pellet-fueled grills. Some are even self-igniting and have built-in burners designed for keeping food warm. Here's a quick look at the two most common types of grills.
Gas Grills
Gas grills are popular because they start easily, heat quickly, are easy to clean, and offer more control over the temperature than a charcoal grill. On nights when you have less time to get dinner on the table, those features can make a big difference. Gas grills can either be powered directly by a propane tank or by a gas line running to the appliance. This makes them versatile for pretty much any outdoor space.
Charcoal Grills
Charcoal grills don't have ignition and must be started manually. The temperature is controlled by the airflow and the amount of charcoal you use. Food made on a charcoal grill has a delicious smokey flavor that just can't be matched by other forms of cooking. Charcoal grills have a very basic structure and are easy to use, so they're great for beginners and grill masters alike.
A Sink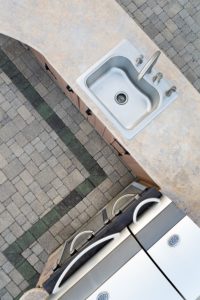 Having a sink outside can be a total game-changer for your outdoor kitchen space, especially if you enjoy hosting parties and get-togethers. It makes food prep and clean-up a breeze, allowing you to prepare your meals without missing out on any of the fun. It can also help you wash your hands and sanitize utensils or dishes without having to go inside. Keep in mind that a sink requires a water line, so be sure to plan accordingly.
A Refrigerator
A small refrigerator, wine cooler, or refrigerated drawers offer a lot of convenience during outdoor food prep and entertaining. It helps ensure food safety by keeping everything fresh and cold. With a refrigerator, meat can marinate, condiments can keep cold and vegetables can stay crisp. You can chill side dishes, salads, and desserts, and beverages can be kept cold and ready for your guests to enjoy.
Storage
An outdoor kitchen can't be very efficient without storage for all of your cooking necessities. It's safe to say that most people don't want to run back and forth toting everything needed for meal prep and dinner service outside. When designing your outdoor kitchen, you'll want to incorporate space to store everything you need to both cook and eat outdoors.
Storage for things like grilling and serving utensils makes your outdoor kitchen much more efficient. Place settings, napkins, drinkware, and other cooking utensils such as measuring cups and mixing spoons also deserve a place in your outdoor kitchen. And don't forget about cleanup. Be sure to set aside some storage space for sponges, dish towels, and cleaning supplies as well.
Counter Space
Just like in an indoor kitchen, counter space in your outdoor kitchen is a must. Whether you're serving a week-night meal to your family or hosting a summer barbecue, you'll need counter space for both prepping and serving.
Other Amenities
An outdoor kitchen design doesn't just stop at the basics. Ultimately, the features you include in yours should speak to the kind of entertaining you enjoy and plan on doing. Here are a few of our favorites:
Oven and stovetop

Microwave

Warming drawer

Wine cooler

Wet bar

Pizza oven

Fire pit or fireplace

Smoker

Roasting spit
Adding a few of these appliances can take your outdoor kitchen space to the next level, drastically expanding your cooking and entertaining capabilities.
The Heart of the Home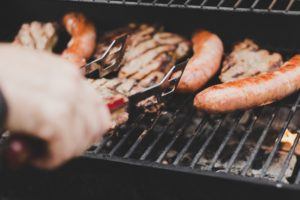 The kitchen has long been considered the "heart" of the home, perhaps because this is where people naturally tend to gather. It should come as no surprise then, as summer sets in and entertaining is in full swing, that you might want to build or update an outdoor kitchen space in your backyard.
Here are a few tips on how you can create a welcoming and useful outdoor space.
Use Sturdy Materials
Your outdoor kitchen is not only going to endure wear from use but also bear the brunt of the elements. To accommodate this, it's a good idea to carefully select sturdy, long-lasting materials. You should have flooring that is not only durable but slip-resistant. For cooking and storage equipment, stainless steel will help you avoid rust. Tough materials like stone or granite make the best countertops. Consider the type of weather your area experiences the most, and design your outdoor kitchen accordingly.
Include A Shelter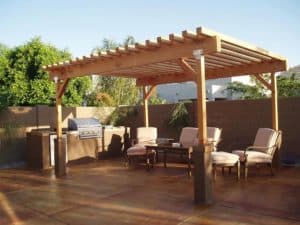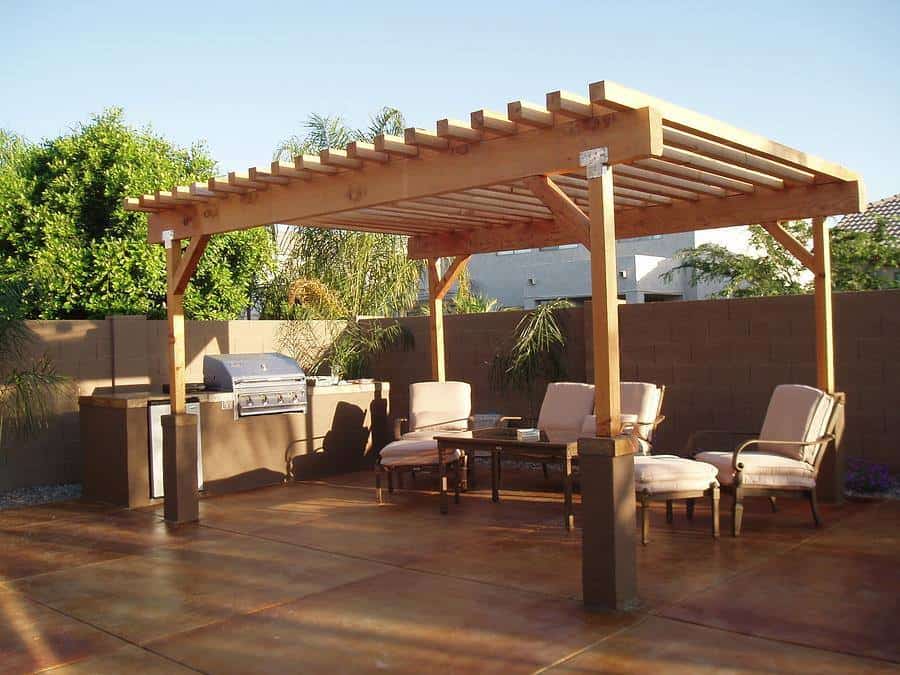 Spring and summer storms typically don't last long, but they sure can force an outdoor party indoors quickly. Once it passes, however, things can remain damp for quite some time. Investing in a shelter for your outdoor kitchen prevents bad weather from spoiling your party and is a smart choice. Besides providing protection from the rain, patio covers also provide shade when the weather is hot, keeping you and your guests out of the scorching summer sun.
Electrical Outlets
Installing electrical outlets may seem trivial until you need one and cannot find it. If you plan to include a small refrigerator or other power appliances in your design, electrical outlets become especially useful. Consider adding lighting, ceiling fans, and a sound system or TV for a more entertaining atmosphere in your outdoor space.
Seating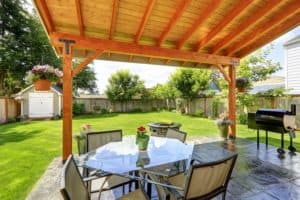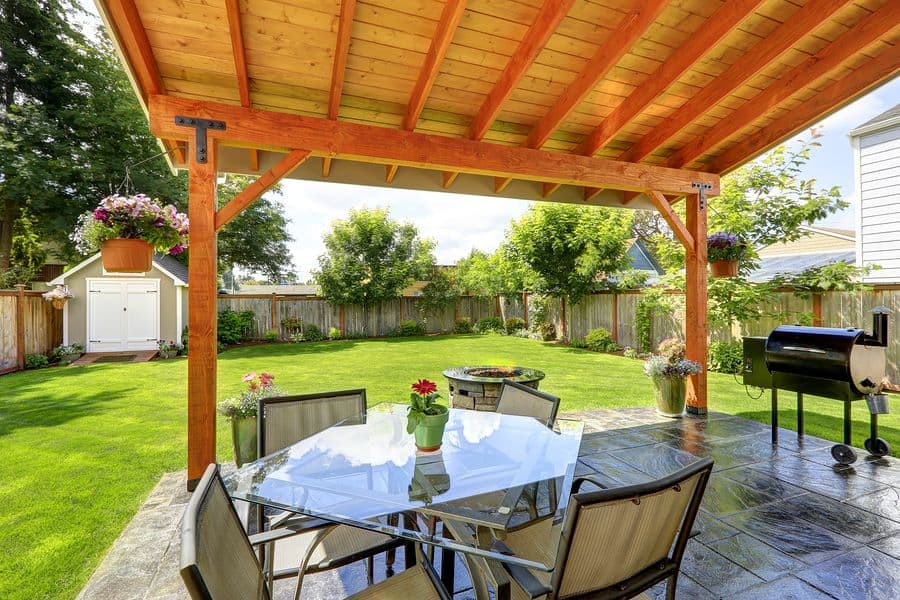 Cooking outside isn't as much fun if you're not also eating outside. In order to eat outside, you need to have somewhere for you and your guests to sit. Choose seating based on how you plan to use your outdoor kitchen and seating area the most. Consider informal lounge seating around a fire pit with a few side tables. Or maybe an extended countertop area with barstools would best fit your needs. Consider a full-length table with ample seating if hosting dinner parties to ensure your guests' comfort and enjoyment.
Seating should be easily accessible and close to the kitchen for convenient serving. For safety, ensure well-lit and easy-to-navigate pathways to and from seating area, especially when carrying food.
When planning your outdoor kitchen design, take careful inventory of your needs and wants. Consider the location for each item, the time of day and year you will use it. Planning carefully will simplify the design process and guarantee that you relish spending time in your outdoor kitchen.