One of the most popular hardscaping features you can add to an outdoor living space is the element of fire. Fire pits and outdoor fireplaces are becoming more and more popular with homeowners, and for good reasons. They offer great entertainment options for your entire family and can be a beautiful focal point for your patio or backyard. There is no reason to end outdoor entertaining just because summer is over. You can extend the outdoor season into the fall and winter months with a warm and inviting fire feature.
Table of Contents
Fire Pits
An outdoor fire pit is a hole in the ground surrounded by raised walls made of stone, brick, concrete, or other fireproof materials. Fire pits are traditionally round, but you can easily customize and construct it in the shape and size that best fits your needs. The fire pit's interior must have a fireproof firebox or authentic firebrick for safety. Here are some things to consider when building a fire pit:
Location
A fire pit can be located anywhere in your backyard, or designed as a part of your patio or terrace. Since a fire pit is smaller and low to the ground, it doesn't pose as many fire hazards or obstruct property views. For a backyard location, choose an open area that's clear from overhanging trees or brush.
Size
A fire pit can be built to any width and depth, but there are basic height guidelines to follow for safety purposes. For a fire pit whose base is below-ground, a wall height of 6 inches is adequate. If you want to prop your feet up, the wall should be 12-14 inches high. To include a seating ledge around the opening, it's important to build the wall at least 18-20 inches high.
Code Regulations
Since a fire pit doesn't have a chimney, you don't need a building permit to meet code regulations. You do, however, need to consider the type of fuel you use. A wood-burning fire pit is fairly easy to set up. A gas fire pit requires a gas line that must be installed underground and connected to the main gas supply.
Fortunately, a fire pit will work well in an outdoor space of just about any size. A great way to differentiate the play space and entertaining space in your yard is to create a paver patio to help divide the two areas. If you want to unify your outdoor living space, consider building your fire pit and seating out of the same paver material. If you really want to jazz things up, consider a fire pit with a gas log starter. This will make it much easier to enjoy your fire pit, mess-free.
Fireplaces
An outdoor fireplace is a large, permanent structure with a firebox and chimney. It must be properly vented for smoke and fire. Typically, fireplaces are rectangular, but they can be custom-built in any shape and size. You can build your fireplace from natural stone, brick, or concrete. They can include custom features like a mantel, seating hearth, wood storage, and lighting. Keep in mind that fireplaces take more time to build than a fire pit. The costs can add up to thousands of dollars in materials and labor. For the best results, you should hire a professional contractor for the job.
Location
An outdoor fireplace can be attached to your house or patio, or located in the backyard near a pool or spa. If you build the fireplace on the patio, the patio's foundation will support the fireplace. A separate backyard location will require an additional foundation to support the free-standing fireplace.
Size
Outdoor fireplaces can be as small as 3 feet wide x 2 feet deep x 4 feet tall. Large fireplaces with a mantel, hearth, seating areas, and wood storage can be up to 15 feet wide x 4 feet deep x 15 feet tall. In determining your fireplace size, consider the size of your backyard, as well as how you plan to use the fireplace.
Code Regulations
Unlike a fire pit, an outdoor fireplace requires a building permit. Building codes mandate specific flue and chimney sizes on wood-burning fireplaces to prevent hazardous fire and smoke downdrafts. Gas fireplaces don't need a chimney. They do, however, require a gas line that must connect from the fireplace to the main gas supply.
Fire Pits vs. Fireplaces
Both fireplaces and fire pits have their advantages and drawbacks. Which one is the best choice for your yard?
If you're working with limited space, a smaller fire pit might be a better choice. You'll have more options for placement and layout. You'll also have an easier time changing the dimensions to fit perfectly in your hardscape design.

For those looking for a focal point that makes a statement, it's hard to beat a fireplace with a mantel. It's a sure way to get people to gather together in one area.

Fireplaces require much more time and effort to build. If you're on a tight timeline, you'll want to take this into consideration. You will need time to get permits, hook up gas lines if needed, and build the fireplace structure.

Impressive fireplaces are a great way to attract potential home buyers when you're trying to sell your home.

Some homeowners may not want a permanent feature. If you're looking for something temporary, a fire pit is your answer. You can remove it much easier if your landscaping design changes.
With outdoor living spaces being a priority for many homebuyers, it's hard to go wrong in choosing between investing in a fire pit or a fireplace. The cooler fall months are rolling in, which means it's the perfect time to spruce up your outdoor space and create an environment that you can enjoy year-round.
Learn More: Brighten Up Your Outdoor Living Space
Stay Safe
Always take dealing with fire seriously, even if it is contained in a fireplace. Here are some things to remember so that you and your family are safe around your fire feature.
There are some things you should not burn. Having a fire pit or an outdoor fireplace may allow you to burn yard waste. Be careful, however, about what you burn. Most logs and sticks are safe. Stay away from things like poison ivy or oak. They could cause the toxins to become airborne. It can damage your lungs just like it damages your skin. Similarly, treated wood can also produce toxic fumes when burned. Be cautious when choosing kindling materials.
Be careful where you place your fire feature. To be safe, make sure there are at least 10 feet between your fire pit and any other structure. Be aware of low-hanging branches and brush, and mindful of the distance from your house.
Always have extinguishing materials on hand. Even if you take adequate precautions, something could go wrong. It is important to be prepared to extinguish your fire at a moment's notice. You also have to be able to put out your fire when you are done using it. Always begin with the end in mind. Be prepared to extinguish your fire ahead of time. That way, you will not leave the fire unattended while you prepare to put it out.
Activities to Enjoy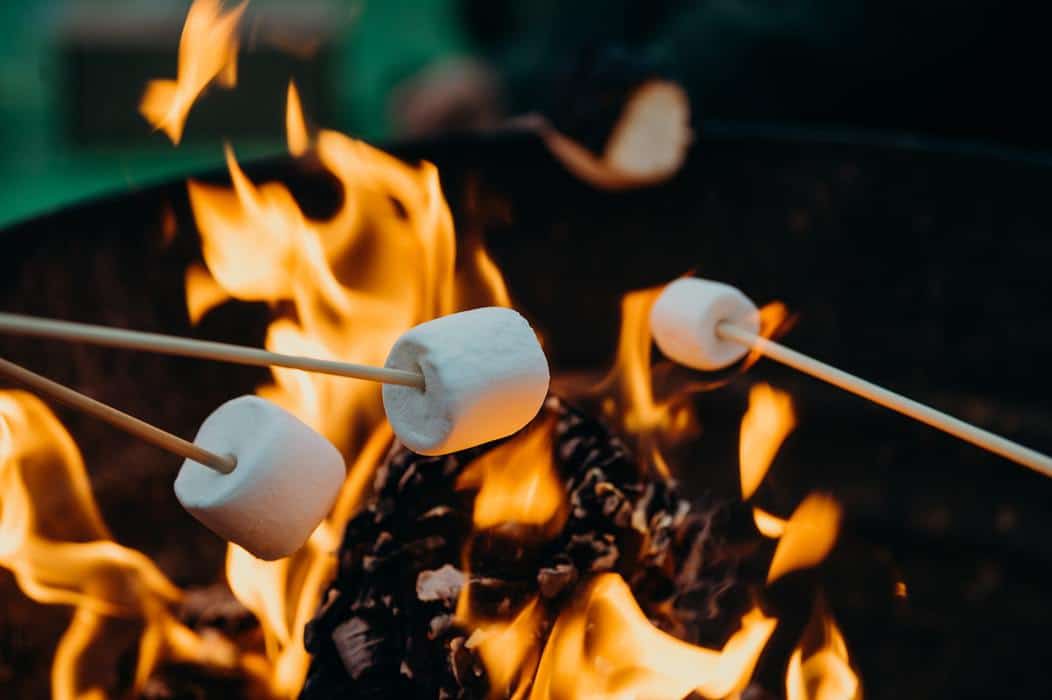 An outdoor fire feature allows you to extend your outdoor entertaining season into cooler weather. Here are a few activities to try while you're enjoying your fire pit in the fall and the winter months.
Roasting anything on an open fire. Pull out your long sticks and put something on the end of them: marshmallows, hot dogs, kabobs. Anything that tastes good roasted on an open flame is fair game. You can even put a grill over your fire pit and make hamburgers or steaks.
Relaxing by the fire. Simply kicking back with a hot drink or a glass of wine and watching the flames can be very relaxing and therapeutic. It's a good place to gather with friends and enjoy some laid-back conversation on a cool evening.
Camping. Maybe you don't have the time or the energy to gather supplies and pack the family into the car for a full-fledged camping trip. You can, however, set up your tent in the backyard. With a fire feature, you have a campfire all ready to go.
Maintenance
Like anything you want to enjoy for a long time to come, your outdoor fireplace or fire pit requires regular maintenance. Here are a few things you can do to keep it functioning all year long.
Have good drainage – If you don't have proper drainage, particularly with a fire pit, you may find yourself with a soup bowl after a rainstorm. To prevent water from building up, make sure you have adequate drainage in and around your fire feature. Consider covering your fire pit in poor weather to ensure minimal mess.

Keep an eye out for cracks and breaks – Because your fireplace or fire pit sustains intense heat, the materials used to make it can crack or break. Be sure to repair or replace broken pieces to keep your fire feature safe and functioning properly.

Clear away branches and vegetation – Vegetation is a given when you're outdoors, so be sure to keep dry vegetation and low-hanging tree branches far away from your fire feature. Both can present a fire hazard.
Just because the weather has grown cooler doesn't mean that you have to hibernate inside. An outdoor fireplace or fire pit lets you enjoy the great outdoors well into the cooler months.
Learn More: Benefits of Maintaining Hardscapes
Designing and Building a Fire Feature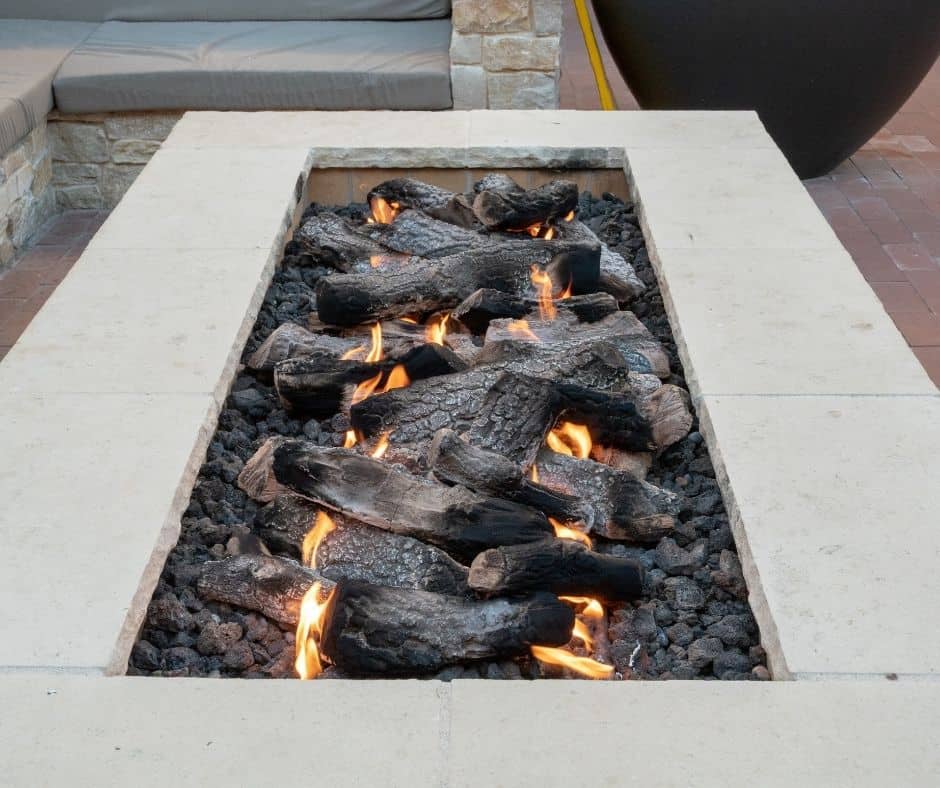 When you've decided that a fire feature is just what your hardscaping design needs, there are a few things you'll need to consider before building.
Location
Determining the size, shape, and type of fire feature to install could be affected by where you want it to be located. Building codes, fire safety, and access to gas lines will all need to be considered. Be aware of surrounding trees or structures that could cause danger when your fire is lit.
Materials
From metal to brick to stone, there are many different options when it comes to materials for hardscaping. Consider your family's needs and what you plan to use your space for. A professional will be able to help you sort through the options that work with your vision.
Cost
The cost of building an outdoor fireplace can vary greatly depending on how large your fireplace will be, how elaborate a design you want, and how much work will need to be done to prepare the space.
Style
Whether you prefer modern design or tend to be more traditional, there is a fire feature that will match your style. With the right materials, seating options, and design choices, your outdoor area will perfectly reflect your personality and lifestyle.
Fire pits and fireplaces are great home hardscaping features for outdoor entertaining. They both add warmth, light, atmosphere, and an important focal point to your outdoor setting. No matter what your needs or preferences are, there's a fire feature for you. Transform your outdoor living space for the fall and winter months and make it a fun and relaxing space for everyone to enjoy.