Stone Steps and Edging
When it comes to designing your landscape, there are some areas where you'll be more likely to focus your attention. The focal points, like gardens and outdoor kitchens, will account for the bulk of your time and budget. But, when the big tasks are completed, it's the details that will pull your design together. Adding steps and edging to your hardscape plans will make your design look incredible while adding function to the space.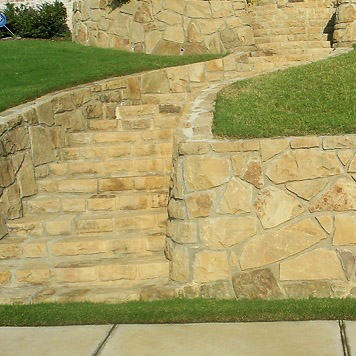 Adding Steps To Your Outdoor Space
Just like the interior of a house, using steps in an outdoor space is sometimes necessary to make the space usable. In landscaping, you might find that you need steps to get on and off of your patio. Adding steps will obviously add function to the area, but choosing the right materials can help add another design element as well. Choose a material that blends well with other design elements and one that will hold up well over time.
Stairs are also often used in a garden, to access hard-to-reach areas. When used in gardens, stairs can have a much less formal look and can be made of a wide variety of materials, to get the style you're looking for.
Steps can be used in your outdoor space to make up for a slope that you won't be correcting by regrading the yard. Instead of changing the landscape, add steps to the hardscape to access higher and lower spots.
Choosing Step Materials
When choosing materials for any part of your hardscaping design, be sure that the material blends well with the other design elements. This creates a cohesive look and helps to maintain your style throughout the space. When a visitor looks at the space, the eye should go toward the focal points, rather than immediately noticing all of the smaller details of the space.
Another factor when building any structure for outdoor use is to choose one that will hold up to the traffic of the area where you're building. When designing steps for a patio, you'll want a very durable material to account for the number of people that will be using them each day. For that reason, stone is a popular building material in outdoor spaces.
Choosing weather resistant materials should also be a concern. While some materials look great, not all will hold up against wind and rain as well as others. Making smart choices during the planning phase will save you time, money, and headaches in the long run.
Using Edging In Landscapes
When your landscape design has several independent areas, each with a separate purpose and look, adding boundaries and borders can make each space its own. When looking at the completed design of your yard, edging will help to move the eye from one area to the next. By choosing to use the same material for each area, edging can also help to pull the separate design features together visually.
Edging is a simple concept, but there are a few factors to consider.
What material will you use? You'll be able to choose between options like stone, brick, and wood.
What shape will you create? You might prefer straight lines, or a more natural and organic shape.
How high will the border go? Short borders will help to contain plant life, but higher walls can keep kids, pets, and animals away from specific areas.
Edging serves several purposes, in addition to keeping your yard looking great. It can also be used to prevent animals from eating the plant life in your yard or the flowers and vegetables grown in your garden. Edging can also help when maintaining your yard, as the borders can prevent weeds from spreading and show a distinction of which areas need to be mowed.
Benefits Of Choosing Stone
While there are several types of material you can use when creating steps and edging for your landscape, stone is one of the most popular and a smart option for many homeowners. The following are some of the reasons to consider stone for your steps and edging.
Stone is one of the most durable materials you can choose for outdoor use. Using stone for steps and pathways means having a hard surface that will stand up to daily traffic. Stones won't crack, shift, or sag over time.
For those looking for a low maintenance option, stone is the best choice. Your structures can simple be swept clean to keep away dirt and debris. You won't have to worry about sealing or scrubbing to keep up with the material each season.
Stone is incredibly versatile. The surface won't be slippery like some alternative options and with the number of styles available, you'll find a type of stone to fit in with every area of your yard. From flooring to walls, you'll want to use stone in every space.
Depending on what type of stone you like, it can be a very cost effective solution. Because stone lasts for so long, it's also a great investment.
When designing your landscape, consider the details that will pull your design together. The professionals at Circle D Construction can show you how steps and edging will finish off the look to add function and style to your yard.
---
Enhance Your Curb Appeal with Circle D
Contact us today to get an estimate on your hardscape features like steps, edging, pathways, retaining walls, and more.
Get An Estimate