Estimated reading time: 9 minutes
When it comes to outdoor living, creative and well-designed backyard elements can help take your outdoor space from 0 to 100. From patio covers and pergolas to fire features and outdoor kitchens, outdoor living is all the rage among homeowners. Before you break ground on your new outdoor living space, consider these 4 popular backyard features.
How to Create Outdoor Living Space
1. Patio Covers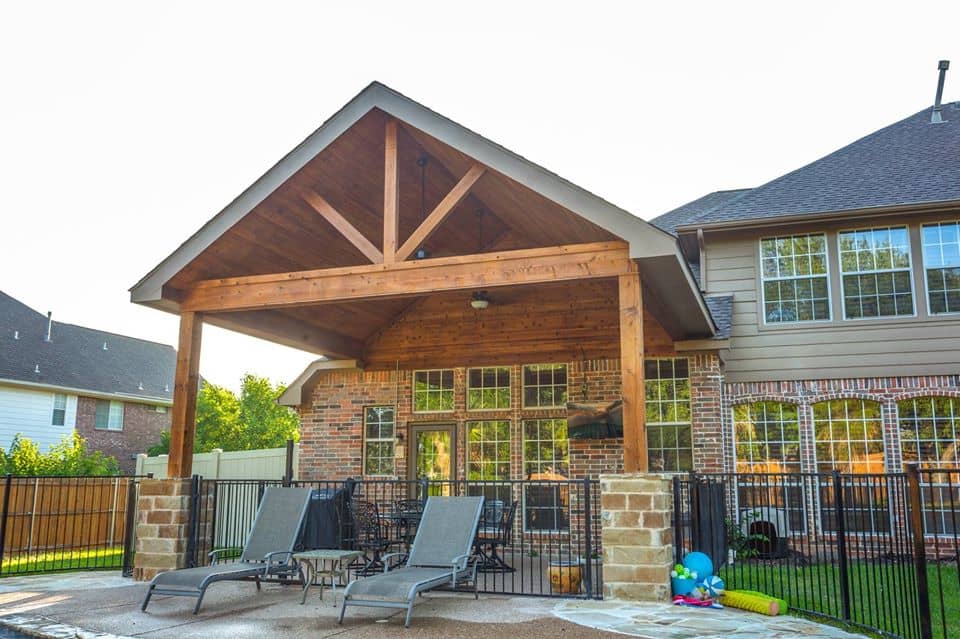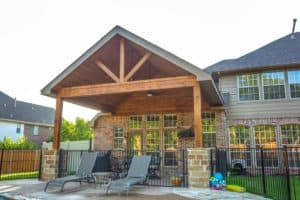 If you love to entertain or spend time outdoors, a patio cover can help amp up your space. With a wide variety of materials and design features at your disposal, it can transform your outdoor space into everything you've ever dreamt it would be.
Benefits of a Patio Cover
A well-designed patio cover is for more than just looks. The benefits and opportunities they provide can help make your outdoor living space the talk of the neighborhood. Check out these practical benefits a patio cover can bring to your home:
Expanded Entertainment Space – Building a covered patio can help extend your living space, giving you more room to work, play, and live outdoors any time of year.
Energy Efficiency – A covered patio can help keep your home cooler in warmer months by preventing the sun from beating directly on your windows. This can, of course, help lower the cost of your energy bills. Talk about efficient!
Protection for Your Furnishings – Patio furniture, outdoor rugs and textiles, appliances, and other items take a beating when exposed to the harsh Texas weather day after day. Covering them with a patio cover can help keep your outdoor living space looking fresh for years to come.
Bad Weather? Don't Fret! – A well-designed patio cover can help open up your space for entertaining no matter what the forecast calls for.
Increased Home Value – Whether you have plans to sell your home or not, it's no secret. Covered patios and outdoor living spaces are an attractive feature and can help increase the value of your home.
Learn More: 5 Benefits of a Covered Patio
2. Pergolas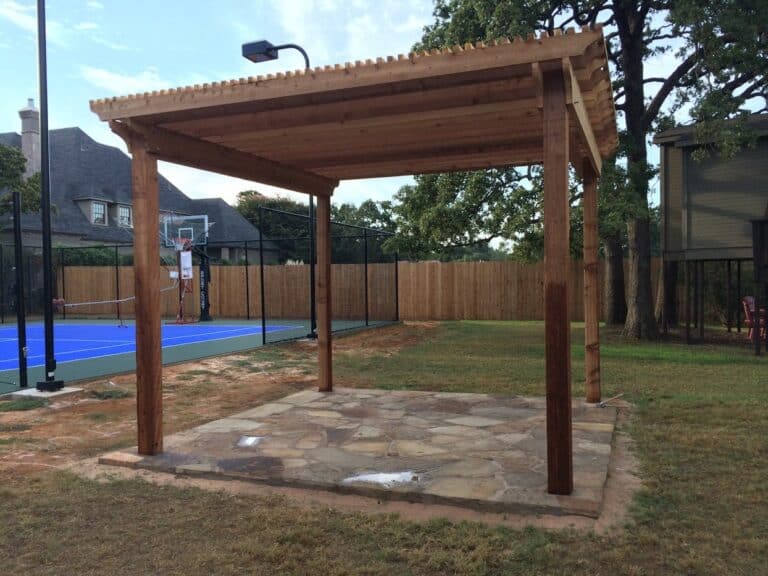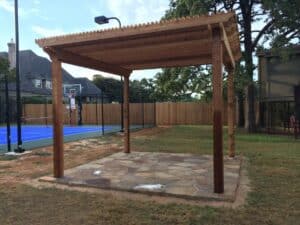 Pergolas and patio covers share similar perks, but there are some key factors that set them apart from one another. Unlike patio covers, pergolas are typically free-standing, creating an entertainment area further away from the immediate structure of your home. They are often open or lattice-roofed and can be built to fit with almost any design or style preference. Pergolas are easily customized, affordable, easy to install and provide a variety of benefits for your outdoor living space.
Expanded Living Space – From lively outdoor dining to casual evening conversations and everything in between, a pergola is a great way to expand your indoor living space to the great outdoors.
Increased Outdoor Privacy – Built in the right place, a pergola can provide additional outdoor privacy for you and your guests. It can block un-enjoyable views and create an eye-catching focal point you'll want to utilize.
Added Visual Interest – By adding height and definition to your yard, a pergola can bring an intriguing contrast to your softer landscaping.
Protection from the Elements – The lattice roofs on pergolas provide the perfect place to incorporate sprawling vines and a blanket of greenery. This can help protect your space from the sun, wind, and rain year-round.
Added Value to Your Home – Like a patio cover, incorporating a pergola into your outdoor design can help add value to your home.
Whether your yard is large or small, a pergola or patio cover can help enhance your outdoor living experience. These practical structures maximize the square footage available to you by drawing the eye upward and giving your outdoor space a sense of importance and grandeur. By increasing the usability of your space, you can comfortably enjoy outdoor living year-round.
Small Yard? No Problem!
Optical illusions are a designer's secret weapon, especially when dealing with small outdoor spaces. You can use many budget-friendly tricks to fool the eye into thinking your space is bigger than it really is.
Design on the Diagonal – Using diagonal designs on patios and pathways helps elongate the space you're working with, making any small area you're working with look larger.
Take Advantage of Perspective – In a small space, curved paths draw attention to how few curves it can make before it runs out of space. Instead, use straight lines to trick the brain into thinking your yard is larger and your path is longer.
Draw the Eye to the Foreground – Sometimes, the best approach with a small yard is not to draw the eye to what is in the background. Instead, focus on the foreground by incorporating vivid colors, dramatic landscaping and intriguing focal points.
3. Fire Features
Nothing says cozy outdoor living like an outdoor fire feature. Fire pits and fireplaces have quickly become one of the most popular outdoor living features available. They help add warmth, light, ambiance, and an important focal point to any outdoor setting. But which one is right for you?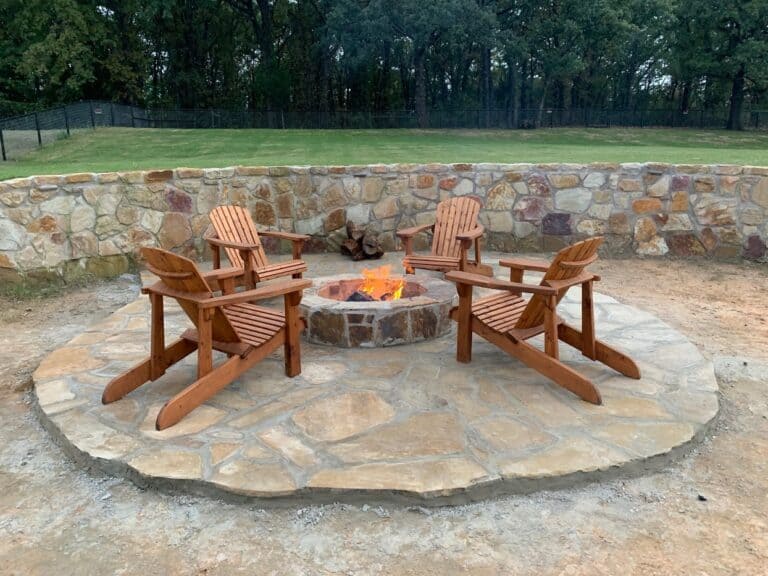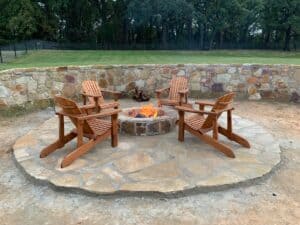 Fire Pits
A fire pit is just as the name suggests, a pit; a hole in the ground surrounded by raised walls made of stone, brick, concrete, or other fireproof materials. Fire pits are traditionally round, but can easily be customized and constructed in the shape and size that best fits your needs and aesthetic. From fall to summer, a fire pit provides the perfect backdrop for gathering with friends and family, roasting marshmallows, and enjoying the great outdoors.
Outdoor Fireplaces
An outdoor fireplace is a large, permanent structure with a firebox and chimney. It must be properly vented for smoke and fire. Typically, fireplaces are rectangular, but they can be custom-built in any shape and size. You can build your fireplace from natural stone, brick or concrete. They can include custom features like a mantel, seating hearth, wood storage, and lighting. Keep in mind that fireplaces take more time to build than a fire pit.
Fire Feature Activities to Enjoy
An outdoor fire feature allows you to extend your outdoor living and entertaining season into cooler months. But in addition to being practical, they're also a lot of fun! Check out these fire feature activities your whole family can enjoy.
Roasting on an open fire – It's true – everything tastes better in the great outdoors! Grab your sticks and pop something on the end of them: marshmallows, hot dogs, kabobs. Anything that tastes good roasted on an open flame is fair game. You can put a grill over the top of your fire pit to make hamburgers or even pop some popcorn. The possibilities are endless!
Relaxing by the fire – Kicking back with a hot drink or a glass of wine at the end of the day can be relaxing and therapeutic. An outdoor fire feature is a great place to gather with friends and family and enjoy some well-deserved R&R.
Backyard camping – You may not have the time or the energy to gather supplies and pack the family into the car for a full-fledged camping trip. But you can, however, set up your tent in the backyard. With a fire feature, you have your campfire ready to use at your disposal.
Learn More: Tips for Cooking Over an Open Fire
Designing and Building a Fire Feature
Before you start building your outdoor fire feature, consider these important factors.
Location – The location of your fire feature plays a big role in determining the size, shape, and type of feature you plan on building. Building codes, fire safety, and access to gas lines will also need to be considered.
Materials – From metal and concrete to stone and brick, there are many different material options to choose from. Think about the needs of your family and what you plan to use your space for.
Style – Whether you prefer a modern aesthetic or tend to be more traditional, fire features are easily customized and can fit with your vision.
4. Outdoor Kitchens and Grill Stations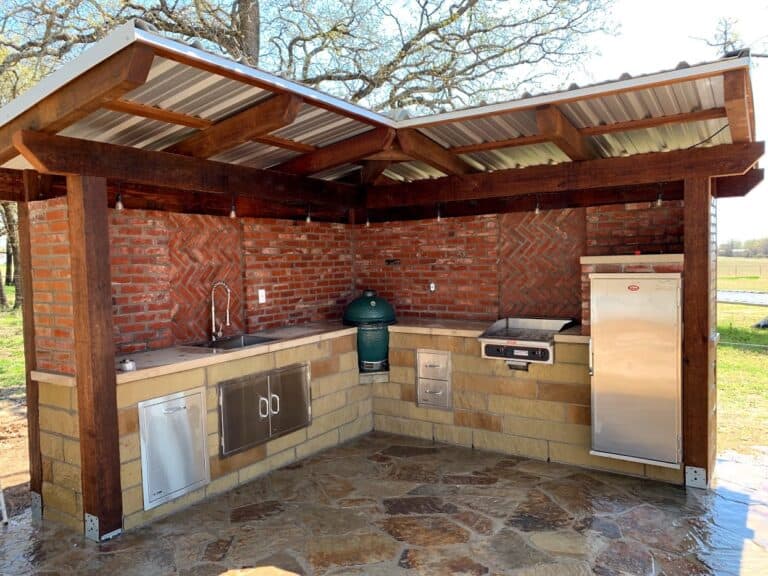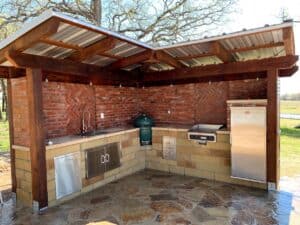 The kitchen has long been considered the "heart of the home", perhaps because it's where people tend to naturally gather. But with homeowners everywhere looking to get outside and spend time with loved ones, outdoor kitchens are growing in popularity.
There's just something about relaxing at the end of the day and eating your freshly grilled meal outdoors. Outdoor kitchens allow you to make everything from appetizers to desserts all while entertaining and spending time with your guests. Not to mention, they drastically increase the value of your home.
From pool parties and barbecues to relaxed meals around the fire, an outdoor kitchen is well worth the investment. Before you start designing your outdoor kitchen space, ask yourself these important questions:
How often will I use it?
What are my outdoor kitchen must-haves?
How many people am I likely to invite at one time?
How involved of a meal do I plan to regularly prepare in that space?
Knowing the answers will help you narrow down your wants and needs as you begin to make design decisions.
Learn More: Brighten Up Your Outdoor Living Space
Popular Outdoor Kitchen Elements
Whether you're entertaining a small group or hosting larger outdoor parties, knowing how to create an outdoor living space with these features can help ensure your backyard gatherings go off without a hitch:
Grill
Smoker
Refrigerator
Pizza Oven
Warming Drawers
Kegerator or Outdoor Bar
Ice Maker
Sink
Oven and Stove
No matter how you're wanting to use your outdoor living space, incorporating one or more of these popular features can help make your backyard the coolest place on the block.