What are your Backyard Goals for 2019? Your backyard should be a place for you to have fun, enjoy the outdoors and entertain your friends and family. It adds value to your home and can be a huge selling feature to potential buyers. Whether you are looking for an outdoor kitchen or a patio or pergola, you want to design your space to be attractive and functional. With that in mind, here are some of the biggest backyard design trends for 2019.
Low-Maintenance Landscaping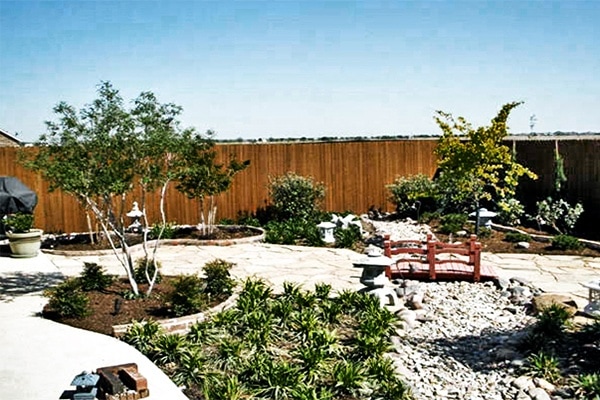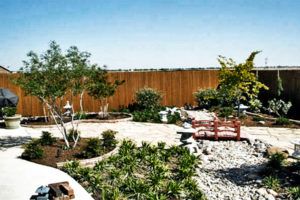 Whether in the front yard or in the backyard, attractive, well-maintained landscaping is extremely important. It makes your yard a more relaxing and appealing place to spend time in. But gardens can often require a lot of time, attention, and energy. To minimize your efforts, consider landscaping that is low-maintenance. Choosing perennials – plants that come back every year – is one easy way to lighten the workload. This keeps you from having to replant every year. Be sure to consider the species of plants that are best suited to your climate. Here in Texas, choosing plants that are drought resistant and can easily withstand heat is a must. Cacti and succulents are very popular additions to Texas landscaping, as well as flowers such as Texas Gold Columbine and Belinda's Dream Rose.
Edible Landscaping
As we look at Backyard Goals for 2019, self-sufficiency is another big trend in backyard design. Planting fruit-bearing trees, vegetables, salad greens, and herbs can not only provide an immense amount of greenery but can also bring a level of sustainability to your yard. Whether you're interested in planting an entire garden of fruits and vegetables, or you're looking for a couple of specifics, edible landscaping is a great way to make your space multi-functional. Planting and maintaining a garden provides a fun and rewarding family activity. It is also a great excuse to spend more time together outside. Edible landscaping also helps save you money in the grocery store and provides that homegrown, "farm-to-table" experience along with its added health benefits.
Hardscaping and Natural Materials
For the past couple of years, homeowners have gravitated towards a more modern backyard style. But in 2019, people are pushing away from modern in their backyard design and looking for more natural, rustic-looking landscape. Materials such as cedar and redwood are great for hardscaping elements such as decks, trellises, and pergolas. Stone and brick can also be used for foundations, pillars, retaining walls, and walkways. Outdoor buildings such as sheds and chicken coops tend to favor a rustic appearance and are currently extremely popular among homeowners. Using natural materials in your hardscaping helps bring a relaxed and authentic feel to any backyard design.
Learn More: Hardscaping Projects that Add Value to Your Home
Fire Features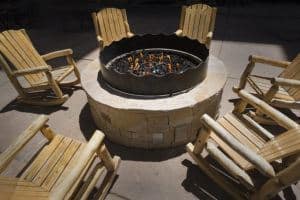 People's love of entertaining is causing fire features to rise in demand. In fact, these days, many new home buyers expect an outdoor fire pit or fireplace to be a part of the property they choose. There are fire features that can fit just about anyone's style and budget. From a simple fire pit to a gas-powered fireplace, there really is something for everyone. Fire features make great focal points around which family and friends can gather and socialize, even as the evenings begin to grow cooler. Having an outdoor fire feature adds to the value of your home, provides warmth and ambiance, and drastically extends the seasonal use of your outdoor space.
Water Features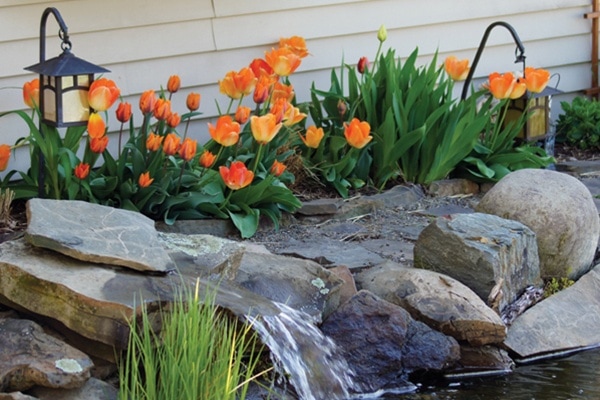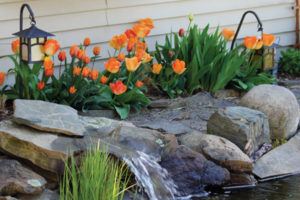 Like fire pits, water features are definitely a Backyard Goal for 2019 and growing in popularity. They can be found to suit just about any budget and style preference. New home buyers are quickly considering water features a must-have in their search credentials, and for a good reason. Water features of any style or size are a quick way to set a relaxing atmosphere in your backyard. While there are very ornate water features available, simple, closed-loop systems are currently the most popular. A simple, stone reflecting pool is easy to maintain and can quickly add a touch of zen and relaxation to your backyard. Another great option is the soothing sound of a trickling water wall. For something a little more elaborate, consider a water garden or a small pond with a running waterfall and some fish. No matter which option you choose, implementing a water feature into your backyard design is a great way to transform your space into a relaxing retreat for your entire family to enjoy.
Outdoor Lighting
If you are planning to use your outdoor space for entertaining, lighting is essential. One of the biggest trends in outdoor lighting for 2019 is strip lighting. Strip lights can easily be used to highlight a walkway or each step in a set of stairs. They can also be placed under benches and countertops to provide an added element of light throughout your yard. Decorative lanterns and lamps are a popular choice to add a touch of your own personal style. Other lighting options such as string lights hanging from the trees, candles, and lanterns are a great way to set the mood in your outdoor space.
Outdoor Living Spaces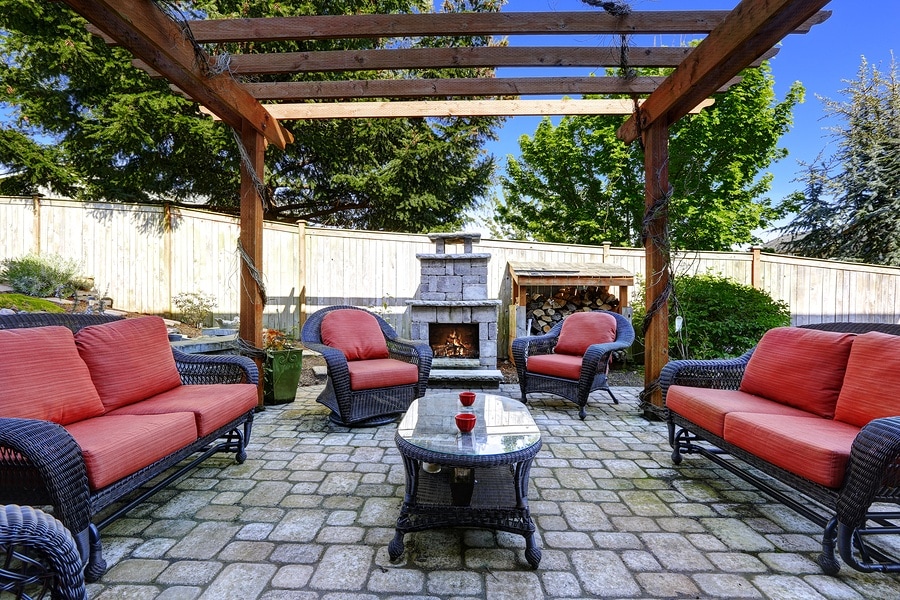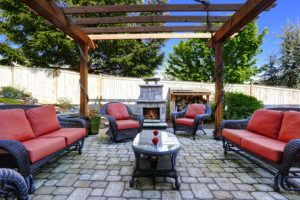 One of the must-have backyard goals for 2019 is an outdoor living space. Outdoor living spaces provide a designated place for you to relax and entertain guests, no matter what time of the year it is. By adding elements that bring the indoors out, your opportunities to host events and spend time outdoors are endless.
At the most basic level, a patio or deck with a set of outdoor furniture can fit the bill. With advancements in textile technology, today's outdoor furniture can be both comfortable and functional. These days, outdoor furniture is waterproof and retains its color despite exposure to the elements. A couple of chairs and an outdoor couch around a coffee table can be a welcoming place to sit and enjoy a glass of wine with friends in the evening. Set the mood with some lighting and music for a romantic date night. You could even incorporate a television and sound system to host an outdoor movie night or sporting event party. Add an outdoor rug and some fun and colorful textiles to help define the space even more.
Outdoor Kitchen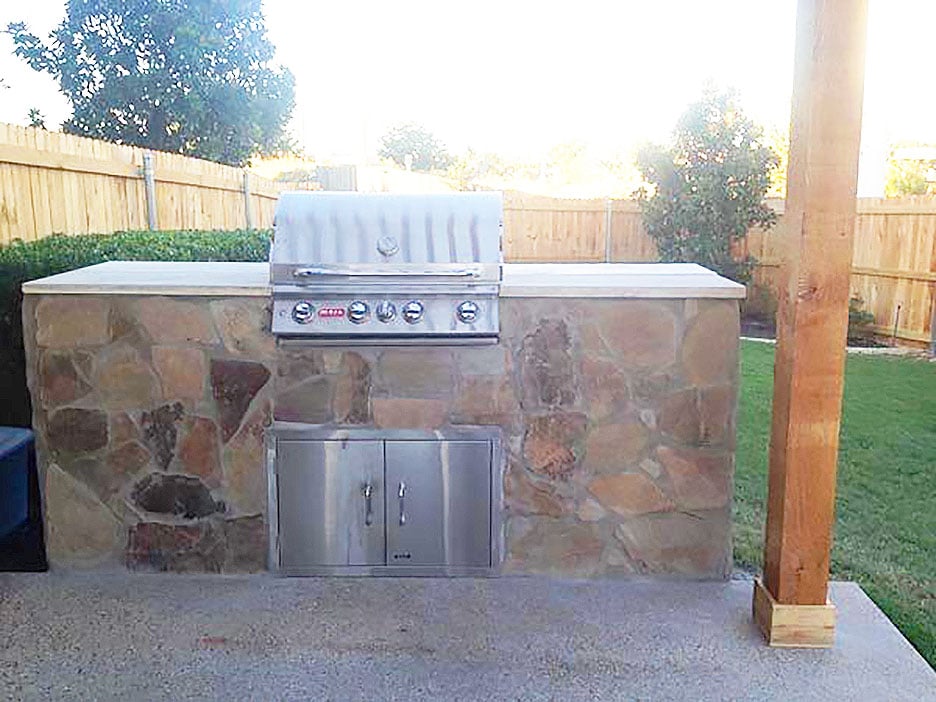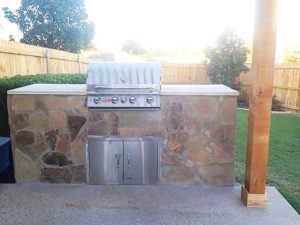 If you have it in your budget, consider adding an outdoor kitchen into your backyard design plans. Include elements such as a barbecue, backyard bar area, counters for preparation, a refrigerator, and even a sink and an oven. An outdoor kitchen provides the perfect space for you to host and entertain your guests without missing out on any of the fun.
If you are looking to update your backyard in the next year, consider these popular backyard design trends. These suggestions can make your backyard a more inviting space for you and your family or can bring added value to your home.