New Sprinkler Systems
If you want to keep your yard looking its best throughout the year, an automatic sprinkler system will be your best bet. A well designed and properly installed system will cut down on yard maintenance and help you create a landscape you'll love all year round. The professionals at Circle D Construction know the importance of an irrigation system and will work with you to create a design that meets your needs.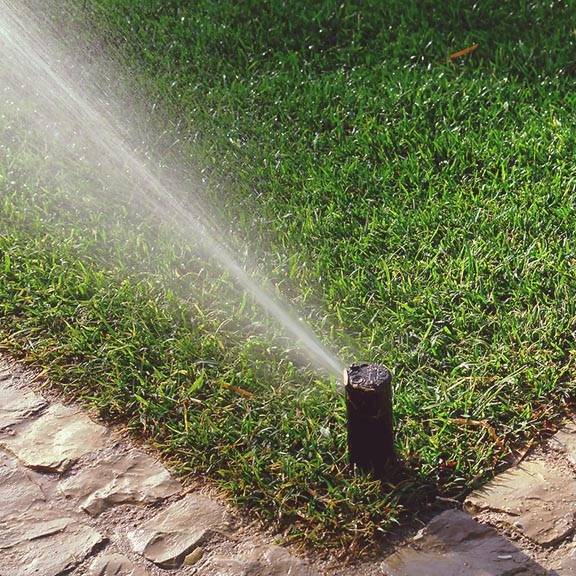 Types of Irrigation Systems
There is more than one way to keep your lawn looking lush and healthy. The following are the types of sprinkler systems that you can choose from.
Soaker Hoses: While some sprinkler systems spray water over top of plants, soaker hoses put the water directly into the soil. This allows the water to soak into the ground and hydrate plants from the root. When designing an irrigation system, some areas can consist of soaker hoses to target a specific area, while regular hose can be used in areas that don't require water.
Drip Irrigation: These sprinkler systems are designed to provide water to plants over an extended period of time. Drop irrigation offers each area a small amount of water at a time, but works continuously to keep plants hydrated. The focused area means that less water will be wasted while plants get the water they need.
Above Ground Systems: These systems are best used to water a large area, like an entire yard. There are several designs, which can determine how your lawn is watered. While these systems are traditionally popular with homeowners, they aren't always the most efficient option. If the sprinklers are left on for a long period of time, they can cause water damage and lead to a huge water bill.
In Ground Systems: An alternative to above ground sprinklers, in ground systems involve buried pipes in a series of zones, to provide water to areas that need to be hydrated. In certain areas, sprinkler heads come out of the ground and can be set on a timer to prevent water waste.
---
Request a New Sprinkler System Installation
Contact us today to get a sprinkler system installation estimate specifically tailored to your yard and watering needs.
Get An Estimate
Factors to Consider with Your New Sprinkler System Installation
When planning your sprinkler system installation, there are several factors to consider. These factors will affect the design of your system, the type of sprinkler that will work best, and the amount of time it will take a team to complete the project.
Area Size: Obviously, a larger area will require more time and work to design and complete. While sprinkler system installation isn't an especially complicated process, tackling a large area means using more supplies and moving around more obstacles.
Number of Zones: When creating a sprinkler system installation plan, a yard will be divided into zones. The zones determine where sprinkler heads need to be placed in order to keep plants hydrated. Planning the zones out in advance ensures that no single area of the yard will receive too much water, which could cause flooding or water damage.
Types of Plants: Different plants require different watering needs. Your individual irrigation plan will take into account the unique plant life in your landscaping. Those with simple grass lawns will have different needs than those with shrubs and flowers.
Water Conservation: Wasting water is a serious concern for many homeowners, as it should be. In the Dallas/Fort Worth area, you also need to consider water restrictions and using limited water effectively. When planning a sprinkler system, there are ways to use water efficiently in order to keep plants hydrated without wasting extra water that isn't needed.
Benefits Of Professional Sprinkler System Installation
While there are many landscaping maintenance tasks that homeowners can handle on their own, installing a sprinkler system calls for bringing in the professionals. The following are a few of the benefits of choosing Circle D Construction to tackle your sprinkler system project.
Solid Plans: While sprinkler systems may seem simple and straightforward, there's more to the process of planning and installing than meets the eye. A professional will be able to survey your landscaping and develop a plan that makes sense for the space and will create an efficient system.
Warranty: When you take on a home project on your own, there's always a chance that something will go wrong. When that happens, you'll be responsible for the costs that come with fixing the problem and potentially doing the entire project over again. When you choose professional installation, the work is guaranteed. If there's a problem, it can be rectified without extra costs.
An Expert Opinion: Each irrigation project is different and sometimes special circumstances will require a change from an original plan. By choosing an expert, you can rest assured that those unforeseen issues will be quickly addressed and resolved.
Proven Experience: A great company will have happy customers, ready to share their positive experience. If you have any question about the skills, outcomes, or integrity of a company, a quick look at our reviews and video testimonials will give you peace of mind.