Your outdoor living spaces can either amp up the quality and atmosphere of your home's design plan or do the complete opposite. All it takes is some planning and great design for your new outdoor space to go from dream to reality. Whether it's a new sprinkler system, an arbor or pergola, or even a full-blown outdoor living and dining area, our landscape services team has some great tips for adding that dash of beauty and charm to your outdoor living spaces.
Table of Contents
How Do I Know Who I Can Trust?
An experienced outdoor contractor will be able to answer any questions you might have about everything from your sprinkler system to an outdoor kitchen so that you can make an informed decision before purchasing. Before offering you an estimate, a contractor should examine your property to determine the size, what type of soil conditions it has, what your vision is, and what he or she feels is realistic within your budget.
Choosing the right outdoor and or sprinkler system contractor is important. You want one who will be able to help you from beginning to end. To ensure the use of the right components and materials for your home, here are a few tips and questions to ask:
Licensed
Is the contractor licensed and bonded? When the cost exceeds $500, you should hire a licensed and bonded contractor for any job. If the contract is breached, a bond protects you.
Warranty
Is there a warranty? Find out the details of the warranty the contractor is offering. For example, all of the work performed by a sprinkler system contractor should be guaranteed on the sprinkler system. A one-year guarantee or warranty on work is standard.
Design
Discuss the design plan before they begin. The outdoor contractor will have a layout of the work. It's important for you to understand what the plan is to ensure that it aligns with your vision.
Tips For Planning Your Outdoor Living Space
Use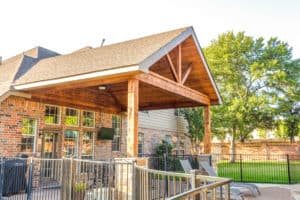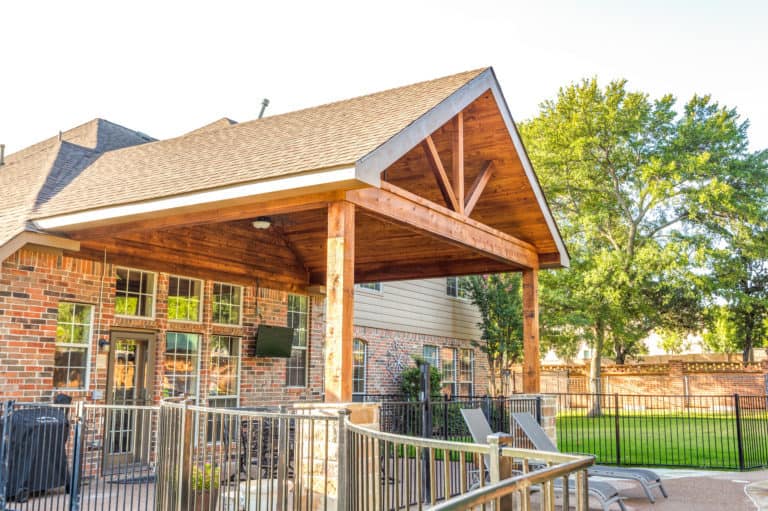 How will you use it? The first step to creating an outdoor living space you'll love is to decide how you will use it, what style fits your home, and what kind of atmosphere you want to create. For example, if you envision drinking wine around a fire in the Fall, you may want a more rustic look to give a cozy, inviting feeling. A patio cover will allow your space to be used all year round. Your outdoor contractor will help you in choosing the best layout, materials, and elements that reflect the style you have chosen and how you want to use the space.
Layout
Once you begin your planning and outdoor living spaces design by considering how you will use it, consider the traffic that will create. Regardless of whether the yard is big or small in size, the outdoor space will work if the traffic patterns have been established around it. This may be accomplished in a variety of manners such as, laying down formal walkways and planting trees or shrubs. Introducing hardscape and creating corners and borders into the landscape design is a fantastic way to do this.
Seating
Where should I sit? Another great addition to your outdoor living space could be the introduction of several different seating options. There is such a range of styles and prices to fit all of your needs. Pint-sized chairs, tables, and benches for kids. Dining tables, lounge chairs, and sofas were all created just for the outdoors. The more options you can include, the more at-home your friends and family will feel there.
Water & Fire
Just add water and fire! Lastly, adding a water or fire source, such as a pool, fireplace, or firepit, can also be a great idea! A pool will allow you to stay cool in the Texas heat, and a fireplace or fire pit will extend the months that you can use your outdoor spaces as it gets cooler. Water and fire create opportunities for enjoyment in the great outdoors; relaxation, exercise, s'mores with the kids, or hanging out with friends and a glass of wine.
Things to Consider When Installing Sprinkler System
Zones
Changes made to your landscape often affect your sprinkler system. Will your grass and beds have separate zones? Some areas need more water than others, and more often. Each area should have separate zones to keep them watered properly. Sprinklers should not be placed too far apart. This could cause dry spots on your lawn. A contractor has a working knowledge of how to lay the system out, determine where the zones will be, and where to place the sprinkler heads for optimum coverage.
Locations
Will the contractor provide a drawing that shows the locations of all sprinkler heads, pipes, and valves? Before a contractor leaves the job, you should have a detailed drawing of every valve, head, and pipe location. This will be very helpful if there is a leak. Your contractor should have a history of completing many sprinkler system installation projects in your local area. This history gives him working knowledge of what configuration and components will work best in your area. The local building code may specify minimum requirements when a beefier system is really in your best interest. Also, the manufacturer's recommendations tend to be general in nature (and perhaps a bit self-serving) while your contractor has hands-on experience and working knowledge.
Controller
Be sure you understand how to manage the controller. The sprinkler system contractor will initially program the controller. He can determine the maximum water pressure that will be on your system and can engineer your sprinkler system installation accordingly.
Warranty
Your outdoor construction contractor can provide you with your system's warranty information which can save you a headache should something go wrong down the road. He will be able to use the best automatic timer for your particular sprinkler system installation based on his design and layout.
Other than the basic attributes mentioned above, a contractor knows a few things that most DIY warriors don't, simply because of experience. For example, when planning the layout for an outdoor kitchen or a sprinkler system installation, an outdoor construction contractor will be able to recognize and make note of the requirements and issues your property presents. Whether you are having a new system installed or an entire outdoor living space built, a dependable and experienced contractor will be able to make your outdoor living dreams come true.
Trust the Experts
We can help you achieve a healthy and great-looking outdoor space with expert design and installation in DFW. Call us today to talk about your needs. Our understanding of your city's requirements allows us to meet your landscape and outdoor living construction needs.