Estimated reading time: 7 minutes
Consider installing an automatic lawn sprinkler system if you currently irrigate your lawn manually. Automatic sprinkler systems are the best way for you to quickly care for and maintain your yard. They make your life a lot easier, saving you time and money, and adding value to your home. An automatic sprinkler system is an excellent method for keeping your yard and landscaping watered efficiently, removing the hassle of hauling around a hose or the burden of paying large water bills.
Table of contents
Save Time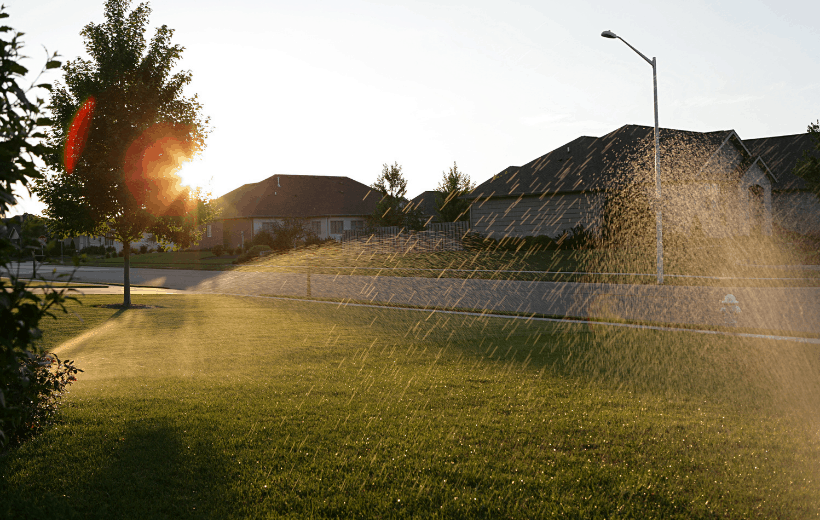 It can be very time-consuming to manually water your lawn. You may need to have a number of hoses on hand that are long enough to reach your entire property. This could cause you to spend unnecessary time dragging them around as you water. Manual watering also requires that you periodically rotate your sprinklers to new areas and pay attention to the amount of time one sprinkler stays in the same place.
Having sprinkler heads installed throughout your lawn through an automatic sprinkler system ensures even and sufficient watering of your property. And the best part? You don't have to pay attention to how long or how often the sprinklers run on a daily basis.
It's easy to over-water your lawn, but an automatic sprinkler system conserves water by directing it to specific areas and helps mitigate your sprinkler system cost. The proper amount of water at the right time ensures that your plants look greener and healthier.
Save Money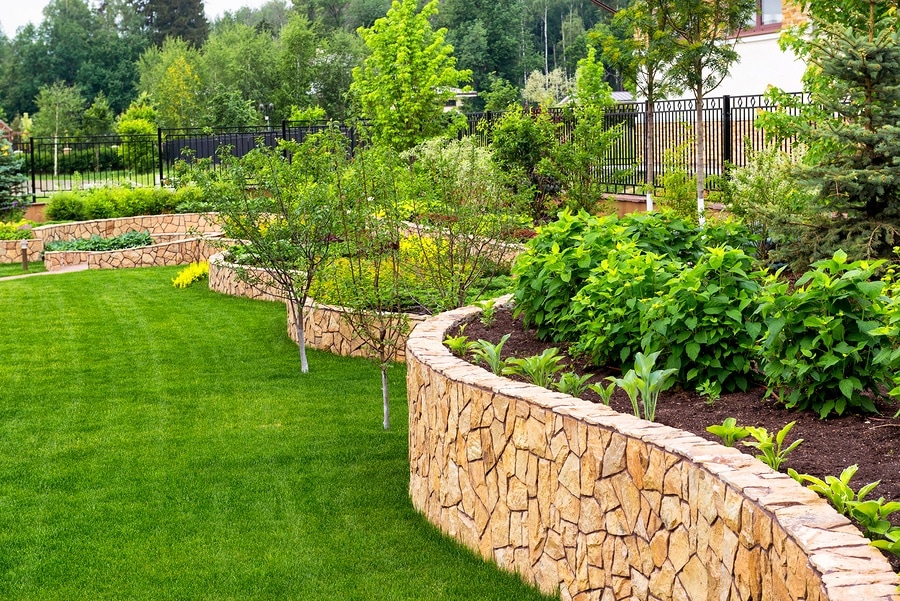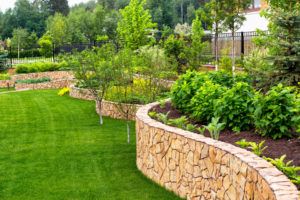 Making sure that you program your sprinkler system properly is one great tip for saving money. Most people prefer to have their sprinkler system turn on at night, knowing the lawn won't be seeing any foot traffic at that hour. A nighttime watering schedule also allows the grass to absorb more of the water. If you use the minimal amount of water needed and activate the system at the proper time of day, you'll save money long-term and have a better-looking lawn.
Another great way to save money (and conserve water) is by making sure your system is equipped with a rain sensor. When a rain sensor detects a certain level of rainfall, it automatically interrupts the sprinklers to turn them off or prevent them from turning on, protecting your lawn from over-watering. Once the rain stops, the rain sensor will eventually dry out as the soil in the ground does. This allows the sprinkler system to continue running properly and on schedule.
Rain sensors can also detect freezing weather, automatically shutting off the system when they detect temperatures at or below freezing. You will most likely turn off your sprinklers during the winter months. But in the case of an early or late freeze, this feature will protect your yard and save you from a potential icy hazard.
Add Value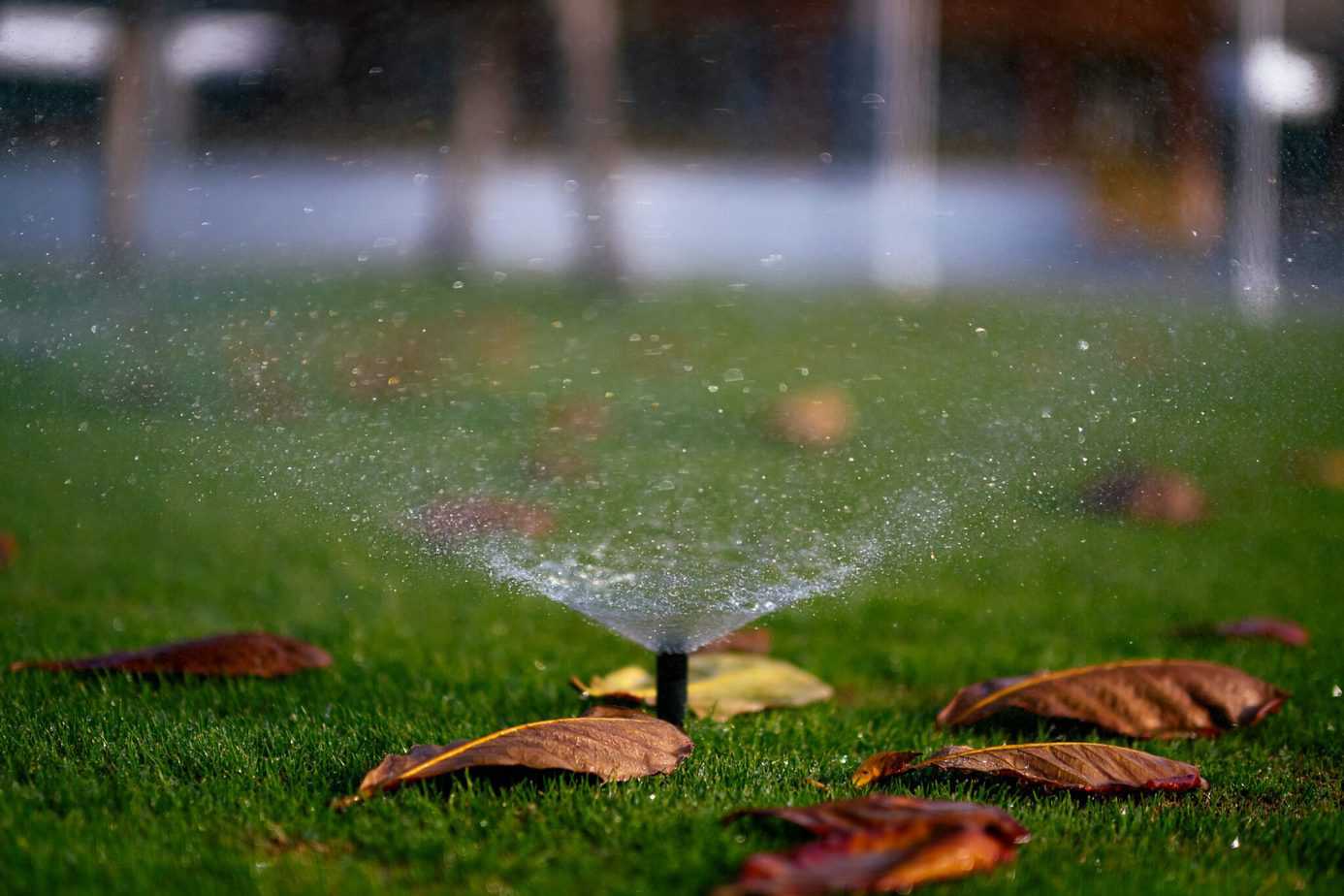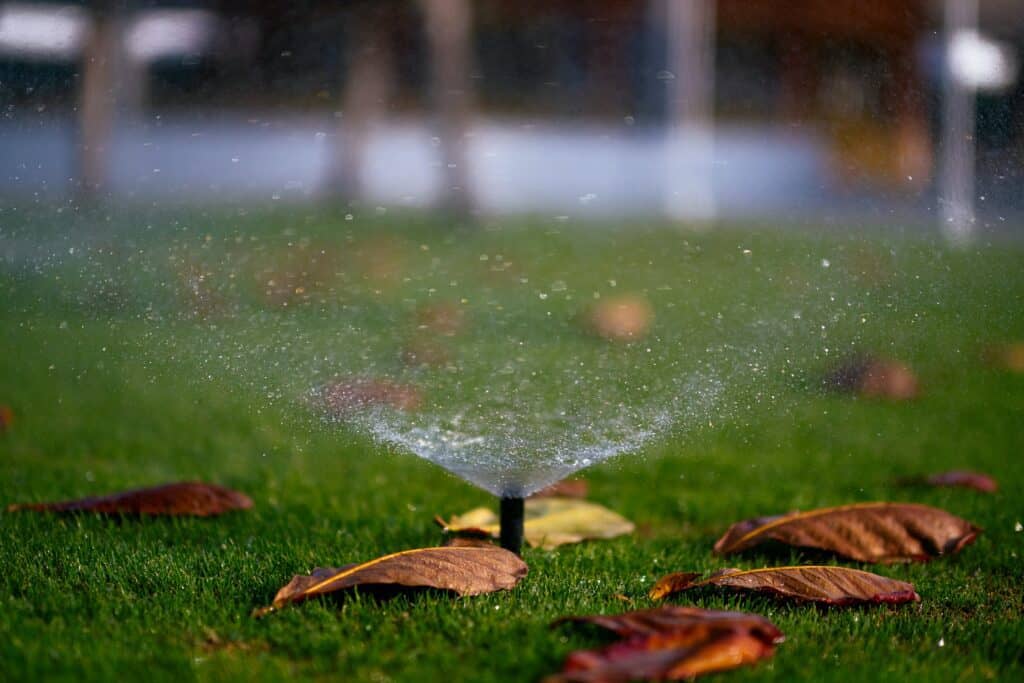 Installing a sprinkler system can have varying costs, but it adds priceless value to your home. When you have a sprinkler system installed on your property, it increases the overall value of your home. Properly maintained and easy-to-use sprinklers add convenience that buyers appreciate.
In addition to the convenience factor, having an automatic sprinkler system also improves curb appeal. A home sprinkler system keeps the lawn, plants, and trees properly watered and irrigated, making your entire property more pleasing to the eye. Should you decide to sell your home, it automatically becomes more appealing to prospective buyers, which means you could put a "sold" sign out front a lot faster.
Cost
The cost of a sprinkler system is an investment, but you'll save a lot of money in the long run. Depending on the size of your property, the average cost for a professionally installed sprinkler system can be between $3,000 and $4,000, depending on city costs.
These costs are based on several factors. It is important to realize that no two properties are the same. You need to consider things such as city codes, the type of soil on your property, tree roots, and the sloping of your property. You'll also want to look at the size of the area that will need to be watered. The larger the area, the more sprinkler zones you'll require. This means more pipes, valves, and sprinkler heads to install and maintain.
But remember, long-term, installing an automatic sprinkler system can actually help you save a lot more!
Installation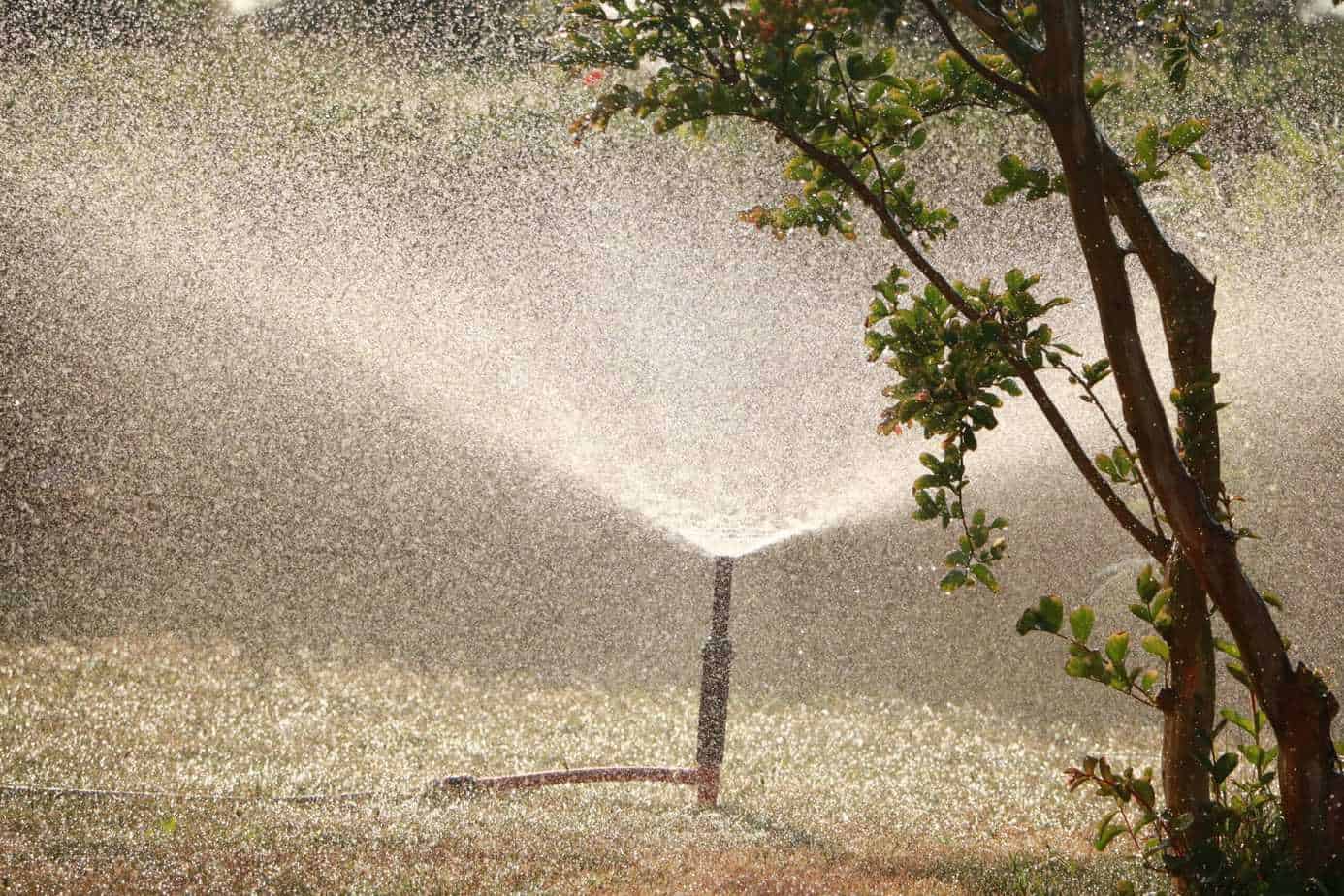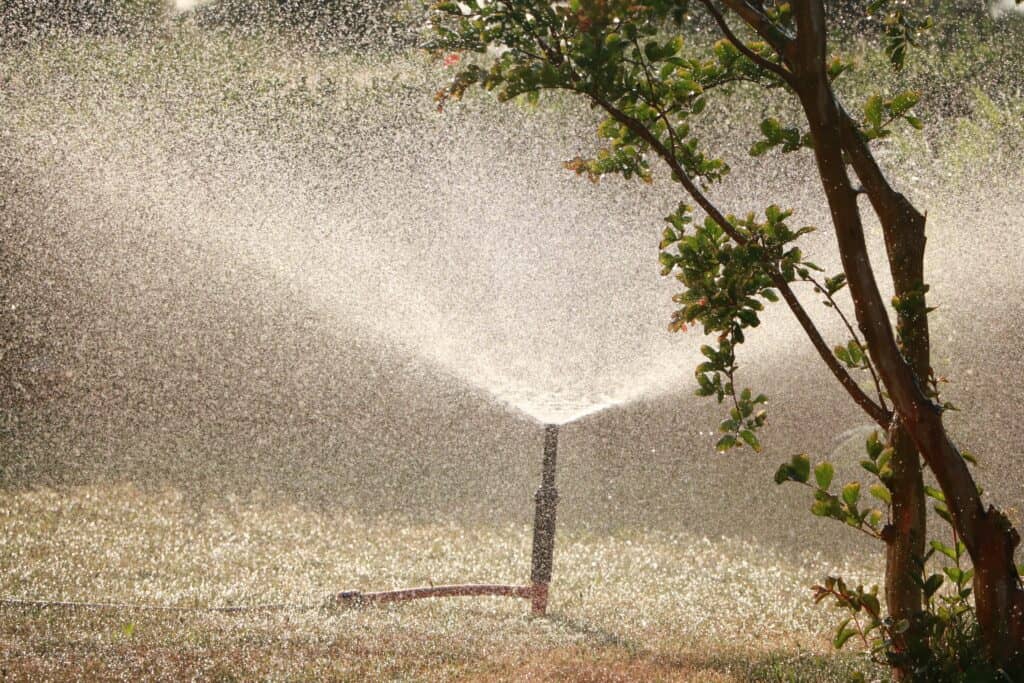 Installing a sprinkler system sounds pretty simple. You dig the ruts, place the lines, and pop in a few sprinkler heads, right? Not quite. A properly installed sprinkler system is more than just sprinkler heads, pipes, and a control box. Making sure your lawn and landscaping are well-tended involves a lot of work. Hiring a contractor with a proven track record and the expertise you need is generally a much better idea to get the job done correctly.
If you're installing your sprinkler system on your own, be sure to consider:
Not every area needs the same amount of water
Your Climate or Zone
Does it have Automation for Weather Patterns?
Water Regulations for your area
Experience & Knowledge
Professional contractors are trained in the business and know what it takes to keep your lawn happy. They make sure that everything is done correctly and efficiently so that you have nothing to worry about. Professional sprinkler contractors have a working knowledge of how to layout systems, determine zones, calculate and set the water pressures, and strategically place sprinkler heads for the best coverage. Reputable contractors can provide examples of previous work, often including testimonials from past clients.
Even if you understand the basics of sprinkler system installation, it's possible to overlook landscaping details. When planning and installing your system, the types of plants, and their sun exposure, and water requirements should be considered. Experienced contractors will take each factor of your yard into consideration and design a system to specifically meet your property's needs.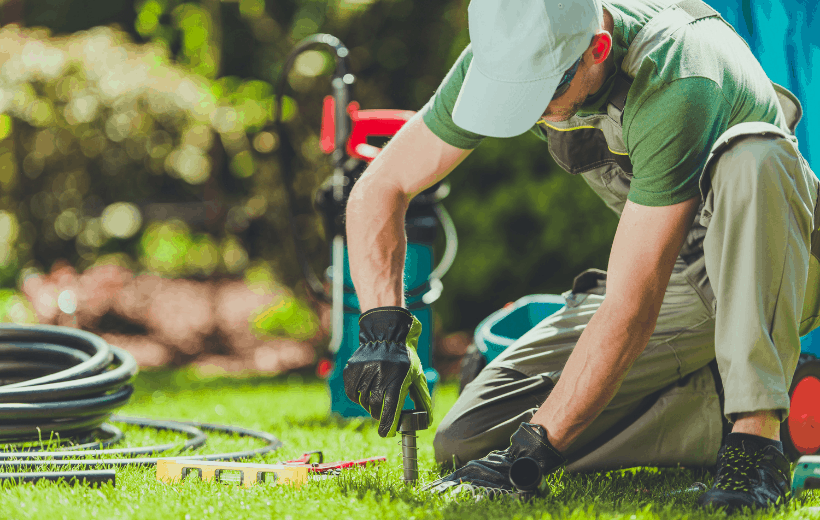 Maintenance
In addition to proper installation, sprinkler systems require regular maintenance. This ensures it remains problem-free, working at full capacity. Professional contractors are trained to identify potential issues and maintain systems with maximum water pressure. The professionals will engineer, install, and maintain your system according to the right figures, ensuring your satisfaction.
Warranty
Having a professional company install the sprinkler system for you also means your installation comes with a warranty. If anything goes wrong with the system, you have a professional who can fix it quickly, and for free.
While DIY projects around your home can often be money-savers, properly installing your own sprinkler system is a complicated process. It often requires a working knowledge of the system itself and how it works. Hiring a professional contractor will save you time, effort, stress, and quite possibly more money.
An automated sprinkler system will keep your ground hydrated throughout the year and make your watering schedule more efficient and effective. But most importantly, your lawn will look lush, bright, and healthy.