A patio in your backyard can be a wonderful space where you can relax, entertain, and enjoy time with your family and friends. Investing in a patio can also add a great deal of value to your home while saving you both time and money on having to landscape or maintain this area of your yard. Patios can be constructed in a variety of sizes, shapes, and out of different kinds of patio materials. There are so many different options to choose from, the decision process can be pretty involved. Researching your options and learning about different materials like flagstone, concrete and pavers can help you make a more educated decision that will ensure you love the final product.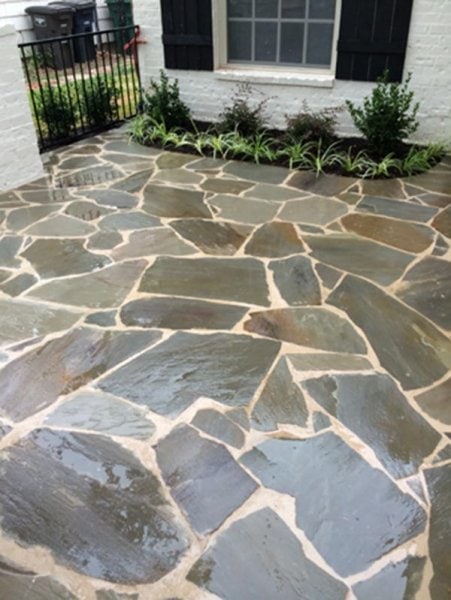 Flagstone
Flagstone is a patio material that is created as different layers of sand, minerals, clay, and other organic sediments accumulate over time. The end result is usually in shades of red, blue, and earth tones. This product will give a very natural look to your patio and it is very traditional and timeless; you won't feel like it has outstayed its welcome after just a few shorts years. Having a flagstone patio installed by a professional is ideal because proper drainage needs to be installed. Otherwise, the naturally formed flagstone has the potential to split or erode in a very short amount of time. For a do-it-yourselfer, the installation of flagstone can take quite a bit of time because of the temperament of flagstone. Each type of flagstone has different slip qualities and heat retention. A professional is ideal as they can make much quicker work of the project.
Pavers
Pavers can be made from various materials, including clay, concrete, stone, or even recycled plastic. Each piece is manmade so it can be designed differently to create a certain look. Some pavers will look like natural stones while others can resemble bricks, cobblestone, or flagstone. This is a much more affordable product than natural stone. It also allows for easier installation compared to flagstone and concrete. This is also a safe patio option. There is typically a no-slip risk with pavers, and they can also be sealed in order to protect the surface from stains or damage.
Concrete
One of the most affordable patio options that you can opt for is those made out of concrete. If properly installed by a professional, concrete patio material can last longer than any other material. While it is subject to settling or cracking as the season changes, professionals pay extra attention to preparing the ground and pouring the patio properly to prevent these issues from occurring. You can go with natural concrete to keep it simple or have it stained to add warmth and character. To go for a more custom look, concrete can be stamped to mimic flagstone, brick, or even wood planks.
No matter which patio material you choose, you'll be able to extend your living space and enjoy the great outdoors.
Brick
If your style of decorating leans more toward classic charm, brick might be the way to go. Brick patios can last a long time. In fact, some brick patios have a lifetime of 100 years or more. Uneven and crumbling bricks can be a problem over time but are easy to replace individually. The cost of a brick patio will depend on the size of the space, and the cost and quality of the brick.
Wood Decking
Wood is another popular choice for homeowners, but it requires the most maintenance. These patios should be cleaned and sealed regularly to stay looking nice. If you want the look of wood without the upkeep, consider composite wood decking, which costs a little more but pays off with less maintenance. Wood decking can cost a little more than concrete or brick.
Stone
Stone patios are a great choice, partly because they don't need much maintenance. There are many different kinds of stones to choose from depending on what look you want. Stone is the most expensive option, but you can reduce costs by opting for local stone. Trucking the stone long distances is often what contributes to the high cost. Talk to your outdoor living contractor about which regional stone options are available near you.
Plan your patio project now so you can enjoy it in the spring! Click here to request an estimate, or give us a call at 817-984-5566.