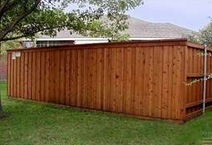 Keeping your pet safe and happy is high on the list for most pet owners. One way for a pet to enjoy themselves is with pet-friendly landscaping. The additions to landscaping can be simple or intricate, depending on what lifestyle and design you desire in the yard.
Table of Contents
Materials and Objects That Make a Yard Pet Friendly
Using the right materials for your landscaping will save you a lot of trouble in the long run. Choosing materials that keep your pet in mind will save you a headache from damages, save you a bit of money in repairs, and it will make your pet happy.
Some of the materials that will help you create a pet-friendly landscape include:
Driftwood. This is a great boarder that can help deter pets from walking in planting beds.
Mulch. Small cider chips make the perfect mulch, easy on paws and won't tend to stick to fur.
Grass Patch. Pets love to roll and bask in the grass, so even a small patch will be a great addition if you have a small yard or it is mostly hardscaped.
Shade. Make sure your pets have plenty of shade where they can take a break from the heat, especially if they are mostly outdoor pets.
Protect Special Plants. A densely planted landscape is fun and inviting for pets but make sure you keep fragile plants in raised beds or in the center of tromp proof plants and shrubs.
Shelter. No pet friendly yard is complete without a shelter for your pet. Make sure your pet is provided with a shelter, such as a dog house, that is just for them. If you need a space to contain your pet, dog runs are ideal.
Water. You also need a source of water for your pet. When it is hot or when they are romping around they will need a refreshing drink. There are special spigots that can be attached to your outdoor faucet, or you can have an outdoor water bowl for them. Just make sure they have plenty of water to last for the length of time they will be outside.
Safe and Secure. Make sure your property is secure with a pet friendly fence. If you have a breed of dog that likes to roam or is a good jumper, be sure you have a high fence. If you have a digger on your hands, secure the bottom of your fencing as well.
Pet Friendly Landscaping
Adding a few elements just for the pets will keep them entertained and out of trouble. These are just a few fun ideas for pet-friendly landscaping additions.
Install a few PetPeek fence windows in wooden fencing.
If you want your cats to get some fresh air build them their own "cattery". This allows them to enjoy the fresh air and environment in a safe place. Click here for examples of how to build your own.
Make a deck with mini pool for pets to cool off in. Even a small kiddie pool will work.
Create a doggy playground. Use items that they can run through, jump on, jump over, and climb. Here are some great pet playground ideas.
Make a potty area. Keep the rest of the yard clean by training pets to potty in one specific spot.
Avoid Certain Plants and Materials
You want to keep your pet-friendly yard free of plants that can be troublesome to pets. Avoid plants that have thorns or spines. Keep weeds out of the yard, as the burs and stickers can get in paw pads and ears. Also, make sure you check warnings before adding certain plants. Some plants are not pet-friendly and can be poisonous.
Make sure you have your base landscaping components in place before adding some of these pet friendly ideas. See our full list of landscaping services here, and then contact us to begin on your project!