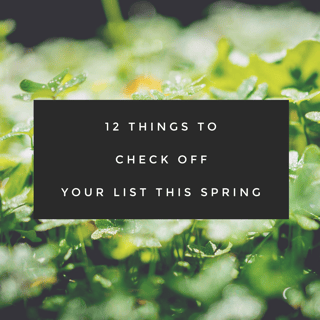 Estimated reading time: 3 minutes
Now that spring is here, it is time to get your home and yard ready for the warmer weather ahead with some outdoor spring maintenance. Many homeowners think that maintenance this time of year is geared more toward cleaning. This is absolutely true because cleaning plays a big part in improving your home's curb appeal. However, there are other maintenance jobs that should be on your list that will help protect your home and save you a lot of money in repair costs in the long run.
Don't forget to add these outdoor spring maintenance chores to your checklist this spring:
Clean and repair screens – Check for holes and damaged frames or hardware. Make repairs and repaint frames as needed or replace damaged ones to prevent additional damage.
Check gutters – After removing leaves and debris, test your gutters for leaks by running a hose over your roof. Dry any leaky areas and seal with caulk or epoxy. Reattach any gutters that may have pulled away from the foundation of your home.
Inspect exterior caulking – Pay attention to the caulking, especially around doors and windows. Carefully scrape away any caulk that shows signs of deterioration and recaulk as needed.
Clean siding – Use a pressure washer to clean wood and vinyl siding. This will wash away any mold or algae that may have accumulated during the winter months that could leave stains or cause your siding to deteriorate further.
Inspect wood trim – Look for signs of weathering and peeling paint. Sand any areas where wood is showing through, and coat it with a primer before repainting. Scrape away any peeling paint, then sand and repaint it.
Check roof – Inspect your roof for any damage that may have occurred from heavy rains or high winds. Look for torn or missing shingles, exposed flashing or damage to soffits.
Inspect foundation – Look for cracks or signs of deterioration in your home's foundation. Focus on concrete floors, walls and masonry.
Clean decks and patios – Use a pressure washer to clean your decks and patios. Inspect wood decks for loose or damaged boards, steps or railings. Re-stain or apply wood preservation treatments if needed. Check flagstone or paver patios for loose stones or chipped areas. Contact an outdoor contractor for repairs.
Bring out patio furniture – Remove visible dust from your outdoor furniture and clean with a mild soap and water solution.
Revive your lawn – Renovate any bare areas of your lawn with reseeding before the temperature becomes too hot for seeding to be effective. Fertilize according to the recommended schedule for your area.
Test sprinkler system – Check for broken sprinkler heads, leaky valves or broken lines early in the season, and schedule service if needed to make sure your system is ready to take care of your lawn throughout the summer.
Trim your trees and shrubs – Proper pruning encourages healthy growth and helps to prevent disease from forming and spreading through your garden. Remove any dead branches that could damage your home or cause injury if they were to fall down.
Taking the time now to do outdoor spring maintenance around your home will help to protect the investment you have made in your home. It will also save you the trouble of having to do many of these chores once summer arrives and you are distracted by vacations and other more pressing, yet fun, matters.
Do you have patio or sprinkler repairs that need to be fixed? Click here to get an estimate or call 817-984-5566.