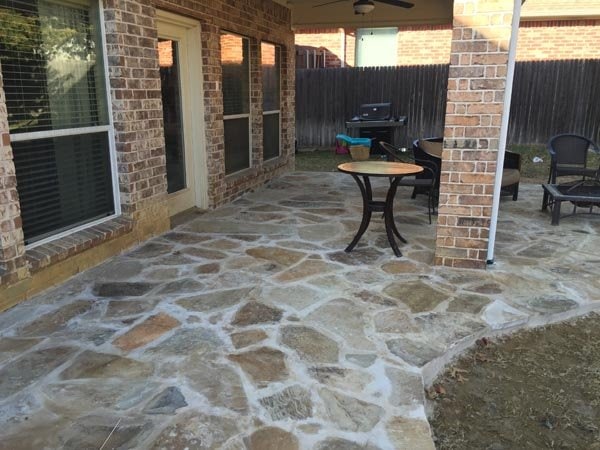 Estimated reading time: 3 minutes
Solid flooring for your patio provides the foundation you need to create an outdoor space you'll enjoy for many years. There is a range of popular patio flooring options from classic materials like brick pavers to refined options like flagstone. Learning about the available flooring materials will help you determine the best type of flooring for your patio.
Table of contents
Flagstone
Since flagstone is such a popular choice, a lot of people think it looks too expected. However, flagstone is very versatile, working with any style from a rustic Texan look to something with a Mediterranean flair. Flagstone is available in a variety of colors to fit any color palette and complement any home. It can also be customized to fit any space or size limitations.
Because each piece of flagstone is not uniform in size and can break easily, it's best to hire an outdoor living contractor to build or repair your flagstone patio. The benefit of using a seasoned contractor is that they've done this before, so they know what potential problems to anticipate with the flagstone itself and the topography or layout of your yard.
Wood
Wood is a versatile patio material that offers a timeless, comfortable feel. While wood coordinates with just about any style of home, it does require more maintenance than other popular patio flooring materials. In order to keep wood in top condition, you'll have to clean and seal it every one or two years. If you like the look of wood but want less upkeep, think about composite decking.
Keep in mind that most decks attached to a house require a permit, so it may be best to use a contractor who can navigate that process for you.
Deck Tiles
Deck tiles are an innovative material intended to be snapped together, allowing you to design a modular deck in practically any location. These tiles are ideal for building a new patio quickly and easily or covering up a less desirable surface. You have the option to fit the tiles together in the configuration that looks best to you, making it a really flexible option. Depending on the tiles that you purchase, you may need to stain and seal them to prevent natural wear and tear.
Brick
Brick offers a more traditional look that is perfect for older homes. It is low maintenance and fairly slip-resistant. There are a number of patterns that you can create with brick including herringbone, basketweave, and circular. Some people like to let moss grow between bricks to fill in the cracks and prohibit weed growth.
Before you hire an outdoor living contractor to build your new patio, ask to see examples of their work and get references from previous clients. It's always good to do your due diligence so you know you'll end up with a quality patio.