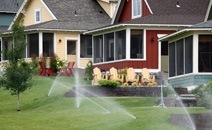 At some point, many homeowners get tired of being a hose-dragger and take up the idea of a lawn sprinkler system installation. There's nothing wrong with the idea itself; it makes life easier and adds to your home's equity, but in most cases it is not a good candidate for a DIY project. It's much better to put this job into the hands of a professional who knows all the tricks, has all the right tools, and will provide a warranty.
Two of the first things you need to take care of before any work is done is to check with your neighborhood's homeowner's association (if you have one) and do some research to get a firm understanding of your local plumbing building code. You might have to submit plans, pull a permit, and get an inspection, but your contractor can take care of this for you.
Why Hire a Contractor for your Sprinkler System Installation?
A contractor has working knowledge of how to lay the system out, determine where the zones will be, and where to place the sprinkler heads for optimum coverage.
Your contractor should have a history of completing many sprinkler system installation projects in your local area. This history gives him working knowledge of what configuration and components will work best in your area. The local building code may specify minimum requirements when a beefier system is really in your best interest. Also, the manufacturer's recommendations tend to be general in nature (and perhaps a bit self-serving) while your contractor has hands-on experience and working knowledge.
He can determine the maximum water pressure that will be on your system and can engineer your sprinkler system installation accordingly.
He can provide you with a warranty which can save you a headache should something go wrong down the road. Often, if a leak develops it can be hard to locate unless you can read the signs. Obviously, a large leak will give itself away with water-soaked turf, but a small leak might only make itself known by a higher than usual water bill.
He will be able to use the best automatic timer for your particular sprinkler system installation based on his design and layout.
Contractors Have Specific Knowledge
Other than the basic attributes mentioned above, a contractor knows a few things that most DIY installers don't, simply because of experience. For example, when he is planning the layout for a particular sprinkler system installation, he will make note of the elevation changes on your property. Lower areas and dips will pool if they get too much water which can damage your lawn.
Another thing to consider for a sprinkler system installation is the type of plants in your landscape. Some need far less water than the lawn itself so the contractor may choose to use drip irrigation rather than sprinkler heads in those areas. Many landscape designs and property layouts have odd or irregular shapes. In order to achieve proper water coverage, the contractor may recommend using heads with variable arc nozzles.
He will take tree canopies and other sun-blocking items into consideration. Why? Because shady areas don't need as much watering as sunny areas. In order to ensure equal coverage for your unique sprinkler system installation he will use specific components and sprinkler head locations.
It's easy to see why a sprinkler system installation might not be such a good DIY project. There is more to the design than there is to the manual labor that it takes to do the actual work. You simply can't get that kind of advice at the home improvement store.
To schedule your sprinkler system installation, contact Circle D Construction today! Call us at 817-984-5566 or click here to request an estimate.