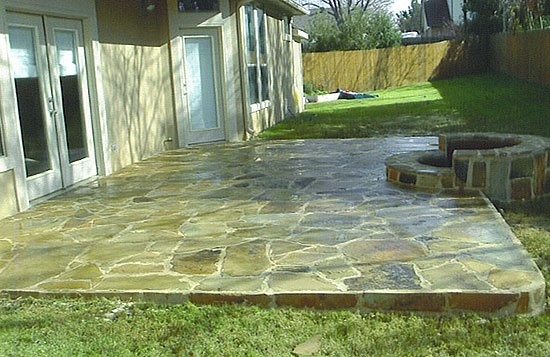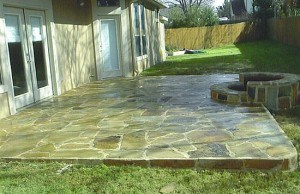 If you are considering a new patio for your home, you want it to be both functional and beautiful. It will create a great outdoor space for family dining, entertaining friends, and relaxation. The hardscaping material you select will have a big impact on durability, maintenance, and costs, so it's important to make the right choice. Here is a comparison of the two most popular outdoor patio materials, flagstone and concrete.
Flagstone
The term flagstone does not refer to a type of stone. It's a generic term that refers to a method of installing several types of stone cut into thick, typically irregular shaped pieces. Most quarries use granite, limestone or sandstone to create flagstone used for patios, walkways, outdoor kitchens, fireplaces, and fire pits. Natural stones are available in a variety of colors, most often seen in shades of red, green, gray, and brown. Flagstone patio pavers come in rectangular and square shapes, as well as irregular shapes that give a more casual, rustic look to an outdoor area.
Flagstone patios can sometimes be less expensive than concrete patios, as there is no mixing, special equipment, or specialized labor required like there is with poured concrete. Installation is easier, faster, and can usually be done by one person to cut down installation costs. Flagstone patios are installed on top of a dry base of gravel and sand. Pieces are put in place, then joints are filled with mortar or sand to anchor pavers. Although solid slab construction is considered more durable than pavers which can shift or become uneven during settling, both can last a lifetime if properly installed. To stabilize flagstone even more, it can be installed on top of a concrete slab like floor tiles.
Concrete
Today, concrete is not the plain, colorless, smooth material that you may envision when you think about a concrete patio. It's now a popular choice for outdoor patios, walkways, countertops and built-in benches due to many new decorative options. Although gray and white are still the most popular colors with homeowners, concrete now comes in more than 30 pre-mixed colors, 15 stains, and several decorative finishes.
Poured Concrete. Poured concrete provides a smooth, even slab surface without seams or patterns. It can be poured into any size and shape and scored or divided into sections when wet. A slab requires more installation time and labor costs since the concrete mixing and pouring takes special equipment and several workmen.
Concrete Pavers. Concrete pavers are thinner, individual blocks that come in various sizes, shapes and textures. Some pavers come with interlocking joints that fit together without grout or mortar. They provide an easy and fast installation and often come with a lifetime warranty.
Stamped Concrete. Stamped concrete offers texture and pattern that mimics other outdoor materials like natural stone, flagstone, and slate. The texture or pattern creates visual interest and gives concrete the illusion of a more expensive material.
Concrete offers a durable, low maintenance, cost-effective choice for your outdoor patio. It has a slip-resistant surface that's easy to clean with soap and water, and it will hold up to freezing ground temperatures without cracking or chipping. For best long-term wear and stain protection, use a concrete sealer on your outdoor patio.
Both flagstone and concrete provide durable, easy to maintain, slip-resistant and cost-effective solutions for a patio with long-term use. The cost for either will depend on the size of your area, and the particular flagstone or concrete finish you choose. Talk to your landscape contractor about which type of patio offers the best solution for your home and property.